Experts say math teaching adds up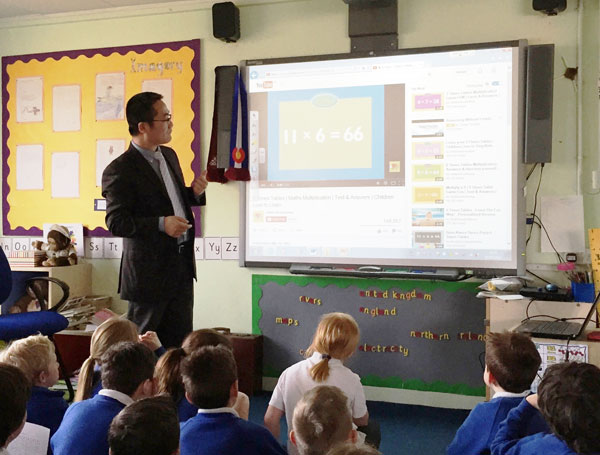 A Shanghai teacher explains math to a class of UK children. [Photo by Wang Mingjie/China Daily]
British education officials expect about half of the England's primary schools will benefit from the Shanghai Mastery model of teaching and learning math, following the successful start of the program.
Exchanges began more than two years ago and the third batch of the visits recently involved around 30 math teachers from Shanghai being in the UK for two weeks to share their Chinese-style teaching methods at 35 English primary schools.
In July, the UK government rolled out its interest in Chinese-style math teaching, providing 41 million pounds ($54.2 million) so it can be taught at more than 8,000 institutions in England.
Clare Fowler, director of math education policy at the UK Education Department, said math teaching has been greatly improved. The exchanges began in September 2014 when 71 British math teachers went to Shanghai to check out high-performing schools. Between November 2014 and March 2015, more than 120 teachers from China have taught at more than 200 UK schools, spreading their ideas among 1,000 UK teachers.
"We are developing a deep understanding of the teaching of mathematics in China and what makes it so effective," said Debbie Morgan, director for primary schools at the National Centre for Excellence in the Teaching of Mathematics. "This deep understanding is important if we are going to adopt the strategies in an attempt to improve mathematics teaching in England."
In November, an independent study by the University of Oxford said students taught traditional Asian "mastery" methods do "significantly better.
But the benefit has not trickled through yet in international rankings and some experts have said the methods must be introduced at a much earlier age.
The newly released OECD's program for international student assessment (Pisa) rankings found 15- and 16-year-olds in England were ranked 27th worldwide.
And Trends in International Mathematics and Science Study ranks primary students 10th and secondary students in 11th.
In response to the poor showings in the rankings, the UK's School Standards Minister Nick Gibb said: "The new more demanding primary math curriculum began to be taught in schools from September 2014, and we expect future TIMSS surveys to reflect further progress."
Morgan echoed the minister's view, saying there is no quick fix and "almost all of our work in the last two years in relation to Shanghai methods of teaching math has been with primary age (5-11) children".