DNA test confirms identity of human remains
A DNA has test confirmed that the remains of a man found recently in a desert in the Xinjiang Uygur autonomous region belonged to Li Zhonghua, a native of Sichuan province, who went missing more than 50 years ago.
Test results were published by police in Qinghai province on Monday evening.
The remains, about 1.75 meters in height, were found by a group of rock collectors near the Lop Nor basin at the juncture of Xinjiang and Qinghai early last month.
Officers from Mangyan police station in the Haixi Mongolian autonomous prefecture in Qinghai arrived to find the remains lying face up, clad in blue overalls and cotton-padded trousers.
A light-yellow canvas bag containing a newspaper, two letters, a flashlight and a pair of goggles was found by the side of the remains. A poncho was found about 10 meters from the remains, while an aluminum thermos flask was found about 100 meters away.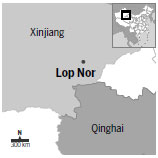 High temperatures and a lack of rainfall explains why the belongings in the bag were intact, said Tang Tuohua, a police officer.
The newspaper was published in 1960 and police said the content of the letters suggest the remains were that of Li, who went missing in the 1960s.
Sichuan police contacted Li's ex-wife - 88-year-old Deng Guangming, who remarried after Li went missing - in a village in Dingshan town in Bazhong, Sichuan.
Deng said she married Li, who was several months older than her, in 1949, a year before he went to fight in the Korean War. He returned, wounded, in 1951 and stayed in their home village for about five years. One day, he told his parents he would find work outside Sichuan. He left and never returned.
Police said they do not know why Li perished in the desert, adding that he might have died in about April 1961.
Li's youngest daughter, 63-year-old Li Xiulan, said her family would go to Qinghai to escort her father's remains home.