Cutting ice for a festival of sculpture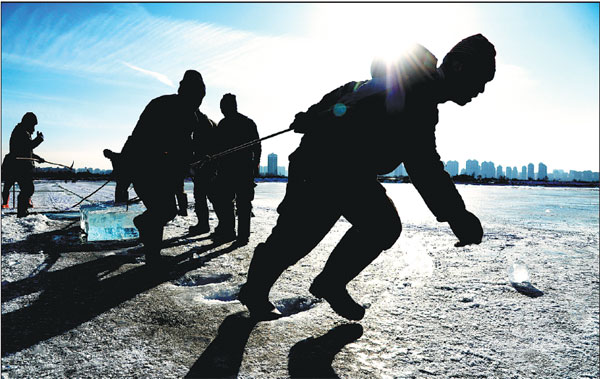 A block of ice, measuring 1.6 meters by 800 cm and weighing about 700 kg, requires two ice collectors to pull it out of the water.[Photo By Zhang Qingyun / For China Daily]
Farmers brave sub-zero temperatures on frozen Songhua River for 20 days to supply winter gala with raw materials
Every winter, an avalanche of visitors from home and abroad descends on the city of Harbin in Heilongjiang province to join the country's biggest winter gala - the Harbin International Ice and Snow Festival.
Up to 180,000 cubic meters of ice is expected to be used at the event, which features striking ice and snow sculptures.
As man-made ice often contains air bubbles and is not strong enough to carve, ice for the festival is sourced from the Songhua River running through the city.
More than 50 workers toil for almost three weeks each year to collect enough ice for the sculptors to work with. "The work is very strenuous and you soon get warm," said Zhao Guo, 38, one of the ice collectors.
Harbin in early December is bitterly cold, with temperatures as low as -30 C. Yet Zhao wears only a thin padded jacket while he is working with the ice. He uses an electric saw to cut the ice into blocks measuring 1.6 meters by 800 cm, before employing a chisel to separate the blocks from each other.
Each block weighs about 700 kg and it requires a team of four to lift.