China's Hong Kong holds election for chief executive election committee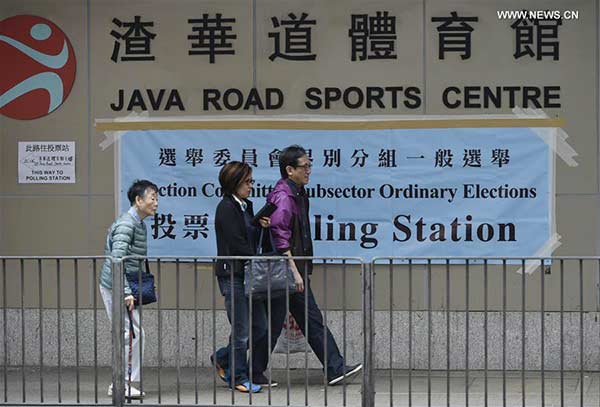 People walk near a polling station in Hong Kong, Dec 11, 2016. An election for the committee which is responsible for choosing the next Chief Executive of China's Hong Kong began on Sunday, during which more than 230,000 registered voters can cast their votes. [Photo/Xinhua]
HONG KONG - An election for the committee which is responsible for choosing the next Chief Executive of China's Hong Kong began on Sunday, during which more than 230,000 registered voters can cast their votes.
According to the Hong Kong Basic Law, the chief executive shall be elected by a broadly representative Election Committee and appointed by the Central People's Government. The committee is composed of 1,200 members under 38 subsectors.
A total of 1,239 candidates run for 733 seats in 25 subsectors/sub-subsectors on Sunday's polling day. Up to 110 ordinary polling stations and two dedicated polling stations set up at police stations are open from 7:30 a.m. to 10:30 p.m. local time for voters in the contested subsectors/ sub-subsectors to cast their votes.
The Electoral Affairs Commission of Hong Kong earlier announced that polls will be only conducted for 25 subsectors/sub-subsectors. For the other 13 subsectors/sub-subsectors, the number of validly nominated candidates in each of them does not exceed the number of committee members allocated. Therefore, 467 seats were returned uncontested.
The committee members come from four main social sectors, including 300 from Industrial, commercial and financial sectors; 300 from the professionals; 300 from the labor, social services, religious and other sectors; and 300 from members of the Legislative Council, representatives of members of the District Councils, representatives of the Heung Yee Kuk, Hong Kong deputies to the National People's Congress, and representatives of Hong Kong members of the National Committee of the Chinese People's Political Consultative Conference.