6 charged for killing, selling protected sea turtle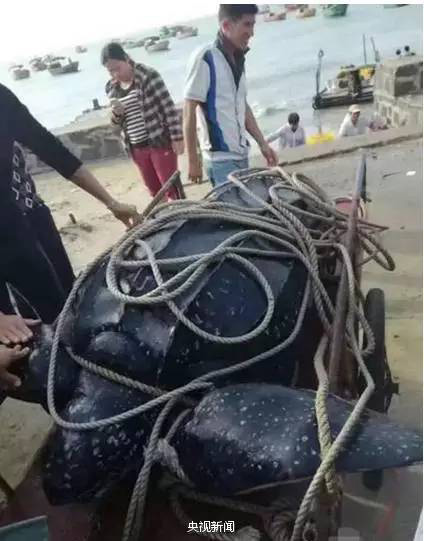 Villagers catch the turtle in Guangdong province. [Photo/Sina Weibo]
Six villagers in Qianshan town, South China's Guangdong province, have been handed over to the judiciary for the slaughter and sale of a protected giant sea turtle, after a video and photos of the incident were widely spread online.
The Guangdong Ocean and Fisheries Administration's investigation showed that three fishermen, two surnamed Zhou, and the third surnamed Fu, left to catch fish at 2 am on Dec 6. At about 6 o'clock, they caught a giant sea turtle. At about 9 o'clock, they returned to the wharf and sold the turtle to another three villagers, surnamed Zheng, Lin and Zhou, for the price of 4,000 yuan ($580).
Then the three buyers killed the turtle and sold it for 140 yuan (around $20) per kilo.
The turtle was about 100 kilos. They sold more than 30 kilos and earned about 360 dollars. The rest of the turtle was given to friends and relatives, said the three buyers.
However, they claimed that the turtle had already died when it was caught. Since the Ocean and Fisheries Administration found no evidence of the three killing the turtle, the authority started to re-investigate the issue on Dec 7.
Authorities stressed on Dec 8 that the turtle was a leatherback turtle, a second class national protected animal in China, and the six people had broken criminal law.
The six people have been handed over to judiciary. Education efforts regarding sea wildlife protection is now being carried out in Guangdong to avoid similar issues happening again.