Vietnam dredging on Chinese reef it occupies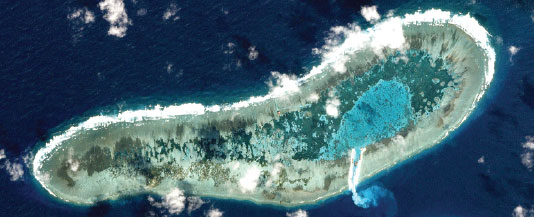 Sand can be seen spilling from a newly dredged channel in this view of a Vietnamese-occupied Chinese reef in the South China Sea on Nov 30. [Photo by Planet Labs/Handout Via Reuters]
Vietnam is dredging a new channel on a Chinese reef in the South China Sea, putting at risk the recent relaxation of regional tension after the Philippines agreed with China to solve maritime issues peacefully.
The move shows that Hanoi is racing against time to consolidate its position in the South China Sea before an expected accord is reached on the regional code of conduct next year and while Washington's Asia policies under the incoming administration of president-elect Donald Trump remain unclear, Chinese observers said.
A satellite image taken on Nov 30 showed Vietnam had begun dredging on Riji Reef in the sea, and several vessels can be seen in a newly dug channel between the lagoon and open sea, Reuters reported on Friday. The dredging could be preliminary work on more comprehensive construction.
The reef is one of the 29 Chinese reefs in the South China Sea that Vietnam has illegally occupied, and it has conducted construction and reclamation work on more than 20 of them since the 1980s. Since August, Vietnam has stepped up efforts to fortify several reefs with mobile rocket launchers, an improved runway and new hangars, according to media reports.
On Friday, Foreign Ministry spokesman Lu Kang reaffirmed China's sovereignty over the South China Sea and urged all parties concerned not to take any action that might complicate the situation.
"We call for them to meet China halfway and jointly safeguard regional peace and stability," Lu said at a regular news conference in Beijing.
The Philippines, Vietnam, Malaysia and Brunei make overlapping claims over parts of the South China Sea.
A major row this year, caused by Philippines' unilateral arbitration case against China, was peacefully resolved after Philippine President Rodrigo Duterte's visit to China.
According to Jia Duqiang, a senior Southeast Asian studies researcher at the Chinese Academy of Social Sciences, "Hanoi is trying to maximize its acquired interests before a possible agreement on the code of conduct by claimants in the South China Sea disputes next year."
A framework of the Code of Conduct in the South China Sea is expected to be completed before next year's ASEAN Foreign Ministers' Meeting in July. Li Guoqiang, deputy head of the Chinese Academy of Social Sciences' Institute of Chinese Borderland Studies, said Vietnam has never stopped its construction on the reefs beginning with its illegal occupation.
"Now it is just continuing that work by making use of the relaxation of tension in the region, now that the Philippines has agreed to solve disputes with China through direct talks and the United States' policy after Donald Trump takes office is still unclear," he said.
Contact the writer on mojingxi@chinadaily.com.cn