Anything but the bear necessities for Hong Kong's pandas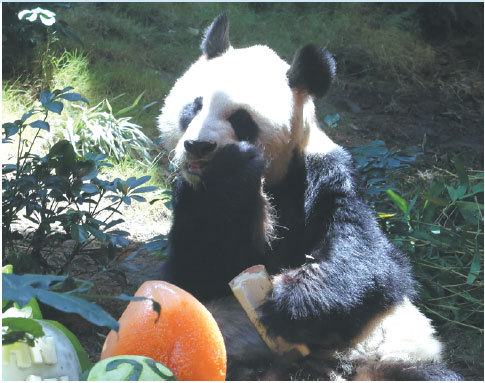 An An (the world's second-oldest male panda in captivity): born free in 1986 Age: 30 Sex: male
Weight: 100 kg Age when brought to Hong Kong: 11 Distinguishing features: a square-shaped face
Likes: playing with shredded paper, lying down to eat bamboo shoots Additional information: An An has a son called Rong Rong, who lives at a nature reserve called Jinbao Paradise in Weifang, Shandong province.
Ying Ying and Le Le: The task of producing Hong Kong's first panda cub rests on the shoulders of Ying Ying and Le Le, both age 11, but so far, efforts to get them to mate successfully have not borne fruit.
Ying Ying has been put in the same mating enclosure as Le Le on three occasions, but attempts to conceive failed. Fresh semen from Le Le and frozen semen from a panda at the Wolong National Nature Reserve, Sichuan province, was used to artificially inseminate Ying Ying, who conceived in May. There were no clues to indicate the identity of the father. Ying Ying had a miscarriage 130 days into her pregnancy.
Lifespan
The average lifespan for giant pandas is 14 to 20 years in the wild, and 25 to 30 years in captivity, but Jia Jia was euthanized on Oct 16 at the age of 38 - the equivalent of 114 human years - after her health deteriorated rapidly. At the time, she was the oldest panda in captivity.
"She had been living with typical geriatric conditions; high blood pressure, arthritis and cataracts in both eyes," Leung said.
Sometimes, Jia Jia refused to take her medication, so Leung spent hours at her side, letting her play with her favorite toys and gently urging her to take her medicine.
In addition to a daily diet of bamboo, vegetables and high-fiber biscuits to complement Jia Jia's medical treatment, the team invented new ways of coaxing her to take medication.
"We mixed it with her favorite drinks - soy milk and prune juice - or we fed her pears and apples before the medicine. We called the fruits 'appetizers'," Leung said. "Those were the most memorable moments, ones I will cherish for the rest of my life."
In September, Leung became the main caregiver for Ying Ying and Le Le, who were presented as a gift to mark the 10th anniversary of Hong Kong's return to China in 2007. The pandas were born in 2005, so Leung refers to them as "the kids".
"They are energetic and adventurous. Ying Ying likes to climb trees and sleep in the highest branches. We seldom trim her claws because she trims them herself during her climbs. Le Le is fond of prowling the panda house, playing with water and looking for toys we hide for him to find," Leung said.
In winter, the area around the panda house is covered with artificial snow as the park attempts to mimic the natural environment of Sichuan province, where pandas originate. The temperature is adjusted to approximate the Sichuan climate and the trainers even spray mist and smoke.
Leung's working day begins at 8:30 am, when he prepares the pandas' staple meal of bamboo shoots. An An consumes around 7 kg of bamboo a day, while the younger pandas eat about 27 kg between them.
Leung also makes snacks consisting of fruits, vegetables and high-fiber cookies to aid the pandas' digestion. The cookies are stuffed into plastic balls, challenging the pandas to look for them. "In the wild, giant pandas use their sense of smell to find food, so we hide the balls to stimulate their natural behavior and actively encourage them to forage," Leung said.
The three pandas sleep for 12 to 14 hours a day, and during rest hours they are fed four to five times. "Feeding them requires different tricks," Leung said.
Last year, An An who was born in 1986, became the second-oldest male giant panda in captivity. He has advanced arthritis and prefers to stay indoors, where he is treated to room service; tender, soft foods, such as shredded bamboo, are placed within easy reach and cooked yam is on the menu when he loses his appetite.
An An is treated with medicines that are usually blended with snacks between meals. "Pandas are sensitive to smell. If they don't like the smell of the snacks, they won't touch them," Leung said. High-fiber biscuits mixed with fresh fruits add a sugar coating to An An's medication.
"Giant pandas have their own preferences, which change as they age and with the changing of the seasons. We have to observe their reactions and draw conclusions every time we provide them with different drinks," Leung said.