Admiral opposes 'unsafe' actions in S. China Sea
Work on the Nansha Islands is legal and also has civilian purposes, navy commander says
China firmly opposes interventions in the South China Sea from countries outside the region, the commander of the People's Liberation Army Navy said.
Admiral Wu Shengli also said China opposes unprofessional and unsafe acts by ships or aircraft in the South China Sea as well as attempts to use "freedom of navigation and flight" as an excuse to compromise sovereignty and to destabilize the region.
"The construction work on the Nansha Islands, which are our own territory, is completely lawful and reasonable. There are defense facilities, but most of the infrastructure on the islands is to serve civilian purposes. They can provide a wider range of public services to neighboring nations and the entire international community," he said.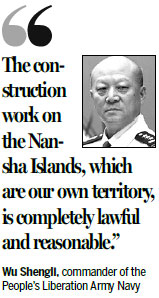 Wu also suggested that other countries should respect historic facts, resort to negotiation for disputes, enhance mutual trust and personnel exchanges, and improve joint drills.
The admiral made the remarks on Thursday in Beijing at a ceremony held by the PLA Navy to mark the 70th anniversary of China's recovery of the Xisha and Nansha islands from Japanese aggressors.
About 120 senior PLA officers, local government officials, foreign military attaches, and Chinese and foreign experts took part in the ceremony. Li Jingsen, 95, who was an executive officer of a warship 70 years ago, recalled his experiences in the recovery operation.
Earlier this week, United States Senator Marco Rubio introduced a bill, entitled the South China Sea and East China Sea Sanctions Act of 2016, in the Senate Committee on Foreign Relations, proposing sanctions against China over its activities in maritime disputes in the East and South China seas, The Diplomat reported.
Last week, Admiral Paul Zukunft, commandant of the US Coast Guard, told Voice of America that he had proposed to the US Department of Defense that his force wants to play a bigger role in patrolling the disputed waters of the South China Sea.
"A strong navy and a strong air force are crucial to safeguarding China's sovereignty in the South China Sea" because a mighty military is a deterrence, Zhou Yongsheng, a professor of international relations at China Foreign Affairs University, told the audience at the ceremony on Thursday.
"Therefore, China must continue to strengthen its military capabilities, especially those of the air force and the navy, for long-range projection and striking," he explained.
Rear Admiral Yang Yi, former director of the Institute for Strategic Studies at the PLA National Defense University, wrote in Thursday's Global Times that the Chinese military is ready to handle armed provocations challenging China's sovereignty and territorial integrity.