Ancient tower reveals Shanghai's role in maritime Silk Road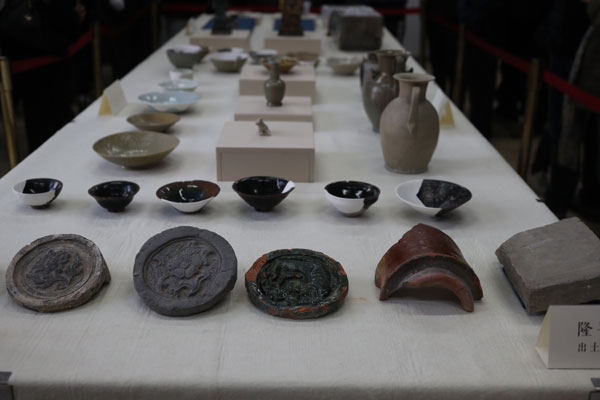 Ceramics and other artifacts unearthed at the base of an ancient tower and Qinglong Town in suburban Shanghai are displayed. [Photo by Gao Erqiang/chinadaily.com.cn]
Latest archeological discoveries reveal that Shanghai was an important harbor on the maritime Silk Road 1,000 years ago.
Archeologists from Shanghai Museum recently unearthed the base of an ancient tower at the site of Qinglong Town in suburban Shanghai's Qingpu district.
The tower built in 1023-1032 is a rare example of ancient Chinese Buddhism architecture. Standing in the northern tip of the ancient Qinglong town, it was also used as a lighthouse, guiding busy commerce ships into the Wusong River harbor.
Archeologists found more than 6,000 ceramic pieces in Qinglong town, which were made in various kilns in provinces of Fujian, Zhejiang and Jiangxi. Very similar ceramics were also found in Japan and the Korean Peninsula.
The chain of evidence shows that "Qinglong Town was a commercial harbor since the 8th century," Chen Jie, head of the archeological team at Shanghai Museum, said at a news conference on Thursday. Chen and colleagues have been digging at the Qinglong Town site since 2010.
Merchants would buy ceramics from south China, and ship it northward. After stopping at Qinglong town, they often move on further north, as far as Japan and Korea peninsula, scientists said.
Judging from the diameter of the base, the newly discovered tower was the largest of its kind unearthed in Shanghai. It was part of the Longping Temple, where civilians made their offerings. In the basement chamber of the tower archeologists found Buddhist relics, statues and artifacts dating back to the 1020s.