Bug lover turns dorm into insectarium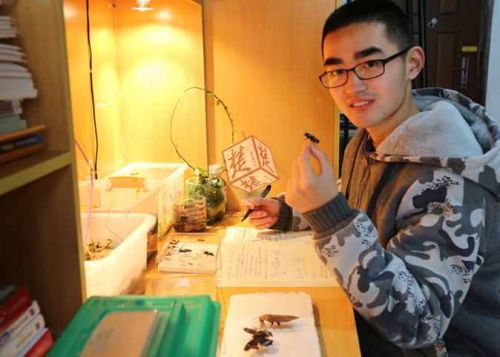 Zhao Yuchen records the breeding process of insects in a notebook in his dormitory. [Photo/Chutian Metropolitan Daily]
For most of us, insects are merely insignificant creatures, but for some, insects represent the magic of the nature.
Zhao Yuchen is a senior student majoring in bioengineering. He has turned his dormitory into an insectarium because of his passion for the small creatures, Chutian Metropolitan Daily reported on Tuesday.
The table in Zhao's dormitory in Wuhan Institute of Bioengineering is covered with all kinds of insects, from common bugs to ones few would have seen before. Zhao points to a small green caterpillar, saying that it is the larva of Chinese yellow swallowtail, a kind of butterfly.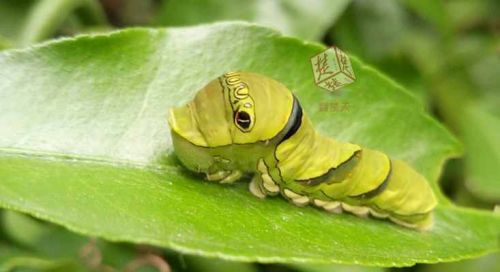 The lava of a Chinese yellow swallowtail, a species of butterfly. [Photo/Chutian Metropolitan Daily]
"Chinese yellow swallowtail can hear some syllables, such as 'bu'. If it hears such a sound, it will be startled and stick out the antler-like scent gland. It is very interesting," Zhao said, visibly excited as he talks about insects.
Zhao developed a liking for bugs in his childhood. He often brought insects home secretly to observe them. It was not until senior high school that he had to put aside his hobby and focus on his academic courses.
His interest in insects prompted Zhao to apply for a biology major in the college entrance exam and he was admitted to Wuhan Institute of Bioengineering.
After going into the college, Zhao feels like a fish in water.
He has immersed himself in the kingdom of insects and is often found in the hillside, woods or lakeside of the school, looking for and observing bugs. He has brought eggs and rare species back to his dormitory and built rooms for these little "pets".