Two-child policy could see rise in deaths during pregnancy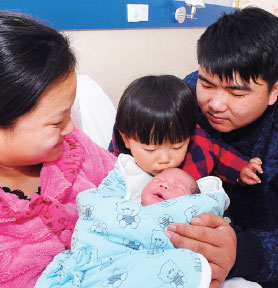 A girl kisses her little brother while their parents look on at a hospital in Fuyang, Anhui province. Wang Biao / For China Daily
Liu, the cardiologist, urged older women to assess the risks they face before deciding to have a child.
"With the rise in age, pregnant women have a higher chance of developing illnesses. They must be aware of their physical condition before pregnancy to reduce the risk to them during childbirth," she said.
He Wenjie, a gynecologist at the reproductive medicine department at Xuzhou Maternal and Child Healthcare Hospital, in Xuzhou, Jiangsu province, has also seen a rise in the number of older patients: "The average age of patients I am receiving is rising. It is crucial that all women, especially those of older age, have checkups before pregnancy to reduce the health risk."
Preventative measures
The NHFPC said health authorities will take more measures in the next few years to improve the health of pregnant women amid rising rates of mortality during pregnancy.
Hospitals nationwide will add 89,000 obstetrics beds to increase the supply of resources and local authorities will upgrade emergency equipment at hospital obstetrics and pediatrics departments.
The commission will also select a number of national midwifery-training bases and organize training related to the treatment of pregnant women with critical conditions.
It will also cooperate with other departments to provide training, with the aim of producing 140,000 extra obstetricians and midwives.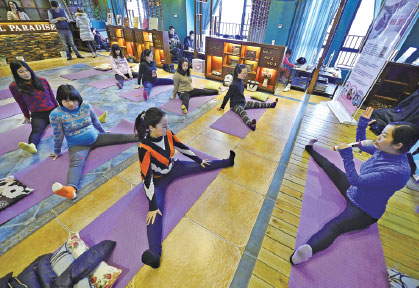 Mothers-to-be practice yoga at a training institute in Nanchang, Jiangxi province, in January. Zhou Mi / Xinhua