Acceptance of TCM spreading
Traditional Chinese medicine is being used in 183 countries and regions, white paper says
A white paper released by the State Council Information Office on Tuesday outlines China's efforts to promote international exchanges and cooperation in traditional Chinese medicine. The paper, Traditional Chinese Medicine in China, said TCM has spread to 183 countries and regions.
According to the World Health Organization, 103 member states have given approval to the practice of acupuncture and moxibustion, 29 have enacted special statutes regarding traditional medicine, and 18 have included acupuncture and moxibustion treatments in their medical insurance provisions, the white paper said.
Moxibustion involves burning herbs and applying the heat to the body to increase vital energy flows.
TCM has gradually gained more international acceptance, and some practices have been recognized by authorities in Russia, Cuba, Vietnam, Singapore, the United Arab Emirates and other nations, according to the white paper.
"We have established 10 TCM centers outside China, and all of them are popular among locals," Wang Guoqiang, head of the State Administration of Traditional Chinese Medicine, said at a news conference on Tuesday. "Governments of 86 countries and regions have signed agreements with the Chinese government on TCM cooperation."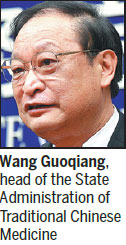 Many countries have expressed hopes of working more closely with China since traditional therapies are both effective and easy to apply, and the low cost means they can help control ballooning health expenditures, he said.
In China, the number of practitioners and assistant practitioners of TCM reached 452,000 by the end of last year, the report said. Medical care services provided by TCM institutions in the national total increased from 14.3 percent to 15.7 percent in the few years from 2009 to 2015, it said.
Last year, outpatient expenses per visit and inpatient expenses per capita at public TCM hospitals were, respectively, 11.5 percent and 24 percent lower than those at general public hospitals, according to the white paper.
"Development of traditional medicine is a global trend, and it is natural that TCM is drawing more attention from the world," Wang said.
TCM drew worldwide attention in August, when images of purple circles on the back and shoulders of US Olympic swimmer Michael Phelps were widely circulated. The circles were caused by traditional cupping therapy, practiced in China for more than 2,000 years to relieve pain and boost the metabolism.
Also, Tu Youyou, a Chinese researcher, shared the 2015 Nobel Prize in physiology or medicine after isolating the anti-malaria drug artemisinin from sweet wormwood, long used in traditional medicine. She became the first Chinese national to win the Nobel Prize in science.
Some TCM techniques, such as acupuncture, have been adopted by many countries and are popular with locals, according to Yang Zhen, an associate professor at Beijing University of Chinese Medicine and a certified acupuncturist in California.
But use of traditional Chinese medicines is not as widespread as it could be due to such factors as a lack of scientific research on the medicines and the fact that they often are not covered by medical insurance, he said.
wangxiaodong@chinadaily.com.cn