'Guizhou, China's new force in Belt and Road Initiative'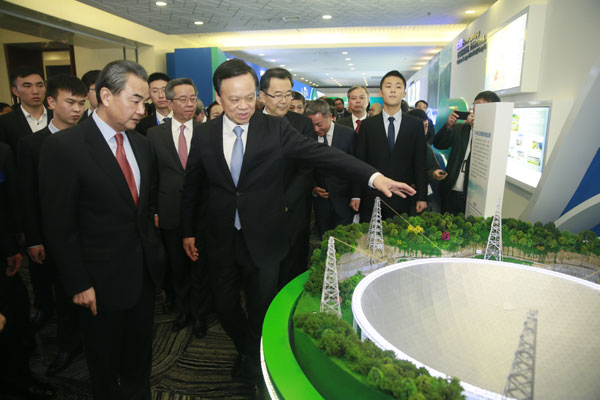 Foreign Minister Wang Yi (left front) and Secretary of Guizhou Provincial CPC Committee Chen Min'er(right front) look at a model of the radio telescope set up in Guizhou in a promotion event in Beijing on Tuesday. [Photo by Feng Yongbin/chinadaily.com.cn]
Guizhou has become a new force in China's opening-up strategy due to its advantageous location in the Belt and Road Initiative, Foreign Minister Wang Yi said on Tuesday.
Wang made the remarks in an event where the ministry and the Guizhou provincial government showcased the Southwest China province to diplomats from more than 120 countries.
The landlocked province, which "has a special position in China's opening-up and history", became an important passage between China and the world more than 2,000 years ago, when China's silk and tea was carried through the Ancient Tea Horse Road and the Southern Silk Road to South Asia, Wang said.
Guizhou is known for its distinctive ethnic groups such as Miao and Dong people as well as its karst landscape. Early this year the province joined the New York Times list of 52 places to go in 2016.
In September, the "Eye of Heaven", a 500-meter-wide radio telescope able to receive and identify signals from deep space, was established in the province.
In March, Guizhou got the approval from the central government to establish China's first pilot zone to develop the big data industry. In August, it received the green light to create an inland open economy pilot zone.
According to Chen Min'er, secretary of Guizhou Provincial CPC Committee, the province's economy has grown by more than 12 percent annually in the past five years.
Chen said he hopes to see more tourists from various countries come to Guizhou, and the province welcomes international companies and talent to invest in its big data industry.
Guizhou has been holding an annual eco conference since 2009, which was upgraded into an international forum in 2013. Chen said Guizhou is ready to work with partners from different nations to help implement the Paris Agreement.
Jean-Jacques de Dardel, Swiss Ambassador to China, said his country and Guizhou have developed "close exchanges".
According to de Dardel, various high level leaders from the province have visited Switzerland, and the cooperation covers research, education and trade.
Also, the two sides are working together on a variety of projects on environment protection.
"Both Guizhou and Switzerland's environments are unique in their pristine beauty, and the protection of this natural beauty is of eminent importance," he said.