Teaching in mountain village for 38 years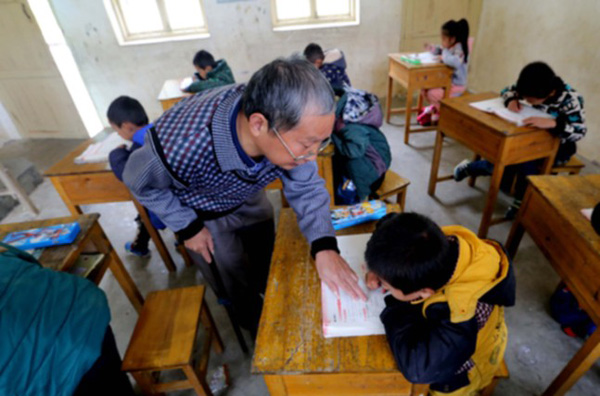 Li Zhaowen, the only teacher of a primary school in South China's Guangxi Zhuang autonomous region, teaches students in November 2016. [Photo/Xinhua]
A 58-year-old man has been a teacher in the deep mountains in South China for 38 years to teach rural children there how to read, calculate as well as arts and music.
Li Zhaowen became a teacher in the remote area in Guangxi Zhuang autonomous region in 1978, and despite a crippling leg injury in 1983, he has stayed in the village to continue teaching.
After rounds of rains in the deep autumn, it was a much colder morning in November in the mountainous areas in Guangxi.
"Dang, dang, dang…" the series of school bell sounds broke the tranquil atmosphere at a small primary school in Changfeng village, Rong'an county in Guangxi.
Li, the only teacher in the school, walked awkwardly with his walking stick down from the second floor of the simple building to the classroom on the first floor where 12 students were waiting for him.
"Good morning, teacher!" they said as they bowed down to Li who smiled and answered "Good morning, sit down." Then, they started their first class of the day.
Li, 58, has been the only teacher in the primary school in the mountainous area for some years and he teaches six courses including Chinese, mathematics and music. The total strength of the students this year was 12.