Girl severely burnt after she tries to save disabled dad from fire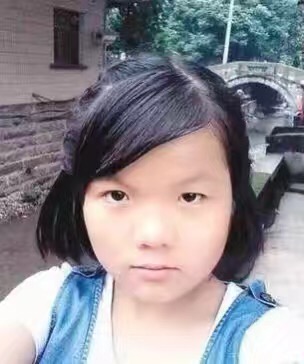 File photo of the girl. [Provided to chinadaily.com.cn]
Over the weekend, the news of a young girl trying to save her disabled dad from a fire went viral online and her brave effort won a lot of praise and donation from the public.
Guo Jiajia, 14, is a junior middle school student in Shapingba district, Chongqing, and the only child. At 3 am on Saturday, her mother Lai Rongqing heard a loud noise in the living room. When she opened the door, the room was engulfed in black smoke and many electrical appliances were on fire. She immediately woke up her husband, her mother-in-law and her daughter before going downstairs to shut down the power and gas supply of the whole building to prevent the spread of the fire.
Lai recalled that when she returned to her apartment, she saw her daughter standing outside the door. So she began knocking on the neighbors' doors to inform them of the fire. But a few seconds later, Jiajia disappeared.
At that time, Lai's husband Guo Hongyong and mother-in-law had already got to safety. With the help of the neighbors, the fire went down a little and the father saw the legs of her daughter through the smoke. The father then rushed into the fire and got his daughter out.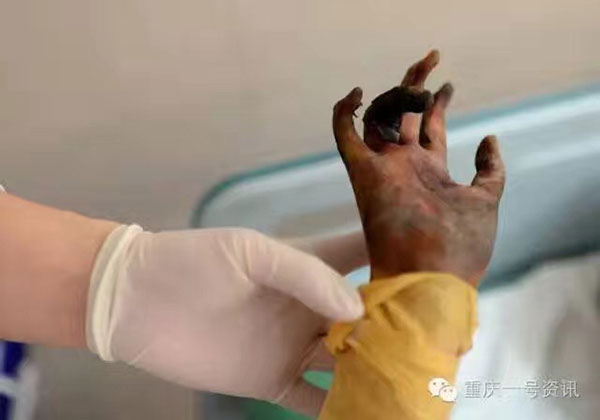 Photo of the girl after being severely burned. [Photo provided to chinadaily.com.cn]
The girl was severely burnt and lost consciousness. Lai poured some cold water on her daughter and Jiajia recovered.
"Why did you return to the room after you got out?" Lai asked her.
"I was looking for dad and I was afraid that he was still in there," Jiajia said.
Guo Hongyong used to be a truck driver before he got injured in a car accident in 2010. The accident made it difficult to walk so he lost the job and now stays at home.
The girl, who suffered burns covering nearly 80 percent of her body and respiratory tract injury and carbon monoxide poisoning, is in the ICU of Chongqing Southwest Hospital.
It is estimated that the treatment will cost the family at least 1 million yuan ($145,000), which is far beyond the family's power. The mother Lai works at a factory and earns 1,700 yuan a month.
After the local media reported the news, the public was moved by the girl's love for the dad and had donated about 1 million yuan until Monday evening, according to the hospital.