Netizens support blind WWII veteran's wish to touch modern armored vehicle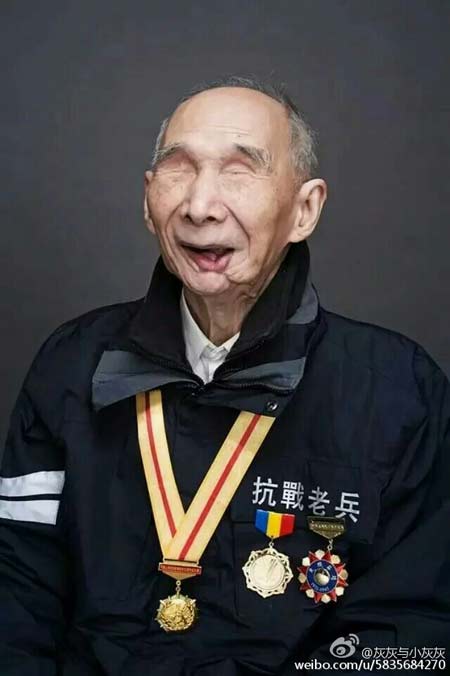 Qian Jianmin [Photo/Sina Weibo]
A 94-year-old Chinese veteran who fought in the War of Resistance against the Japanese Aggression may soon realize his long-cherished wish to touch a modern armored vehicle, after a volunteer posted his wish online.
The dream of nonagenarian Qian Jianmin was posted to Sina Weibo on Nov 4 by a volunteer who helps veterans like Qian. The post explained that Qian was a member of China's first armored troops, and he served in the Chinese expeditionary forces that fought in India and Myanmar during World War II.
"Now he has a wish to touch a modern armored vehicle," the post declared, pairing Qian's story with a photo of the soldier sporting battle wounds on his face and several badges for military merit.
The post quickly received a lot of attention, and has received more than 18,000 reposts as of press time. Meanwhile, several military-related Weibo users also reposted the wish and expressed their willingness to contact military units on Qian's behalf, including Cjdby.net, one of China's leading online military forums.
Tian Chen, the Beijing-based forum administrator, told People's Daily Online that they must first verify the veteran's identity, and would then contact an armored troop as well as Beijing-based Chinese Tank Museum, allowing Qian to touch unclassified armored vehicles that are on display to the public, such as Type 96 Main Battle Tank.
Tian added that the forum is also willing to contact military units near Wuxi – the city where Qian lives – in case the elderly veteran is not able to travel far.
"Veterans' experiences constitute an essential education for our younger generations. They are our national heroes. Society is obligated to promote their spirits and meet their reasonable requests," Tian said.
Qian was born in 1922 in Wuxi, Jiangsu province. Along with another 21,000 veterans and family members of martyrs during the war, Qian was awarded a badge commemorating the 70th anniversary of the end of the Chinese People's War of Resistance against Japanese Aggression in September 2015.