Fatal shooting of man by escort guard handed over to prosecution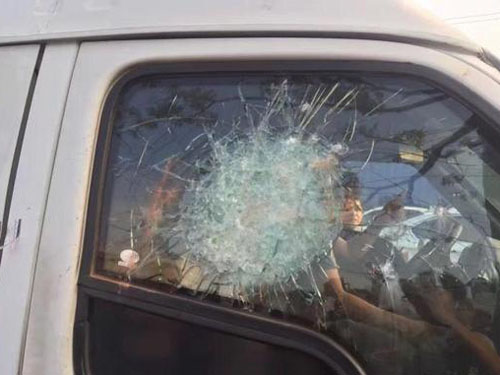 Photo taken on Oct 27, 2016 shows a smashed window of an armored cash truck, broken by a man wielding a brick in Dongguan, South China's Guangdong province. [Photo from Sina Weibo]
The police authority in Dongguan, South China's Guangdong province, announced on Friday, December 2 that there was no known prior incident between the armored cash truck and its escort guards and the man who was shot dead. At present, the case has been delivered to prosecution.
On October 27, a man surnamed Huang was shot dead with a riot gun containing rubber bullets by an escort guard who was driving an armored cash truck in Dongguan. It is claimed that Huang smashed the window of the armored truck, and despite getting several warnings to stop, he kept repeating his behavior and then finally was fatally shot.
The escort guard was detained for investigation. After watching the video camera footage, no prior incident was found to have occurred between the armored cash truck and Huang to prompt his attack with a brick.
According to the footage, the armored cash truck stopped five times. First, Huang smashed the window of the truck with a brick, breaking both the window and the rear-view mirror. As Huang repeatedly used the brick to further damage the vehicle, the escort guard reported it to the company and then proceeded to shoot the man using a riot gun on Huang's fifth attempt to damage the truck.
In regards to what prompted the attack, according to several witnesses nearby, no prior incident was seen to have occurred between Huang and the armored truck or its escort guards. Also, there was no clear scratch found on the armored truck apart from the scratches sustained from the brick.
The escort guard surnamed Liang fatally shot Huang on October 27. The next day, Liang was detained by the police. On November 9, the procuratorate approved arrest and informed Huang's family of the situation. The investigation was finished on December 1, and the case was delivered to prosecution.
On November 28, Huang's family received 1.8 million yuan ($261,500) as compensation for Huang's death. The family said that they will continue the legal proceedings for the final result from the court.