Reporter's log: Tears flowed when court read not guilty verdict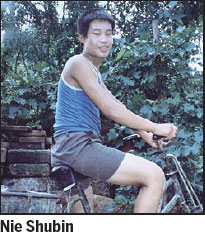 I have witnessed many court rulings announced in my past six years of reporting on law. But this time I could clearly hear my heart beating fast as this high-profile case has been part of my career.
Nie Shubin has been a name familiar to almost all legal journalists in China because his case has been widely reported and discussed for more than 10 years.
On Friday, 21 years after being wrongly executed for rape and murder, Nie was finally pardoned on the grounds that the facts were unclear and there was insufficient evidence against him.
Nie's mother, Zhang Huanzhi, who was accompanied by Li Shuting, the family's lawyer, looked calm during the announcement. But she suddenly burst into tears and started to knock on a table in front of her when the court read the word "innocent". Li patted her, as his own tears flowed behind his glasses.
"I have been expecting today for a long time, but my son won't come back again," the mother said.
Looking at the 72-year-old woman, I could no longer hold back my own tears.
At that moment, I forgot I was a journalist. Instead, I tried to feel the excitement and difficulties of this mother who spent two decades working to clear her son's name.
"The hardest part of the appeal was at the very beginning, when various departments ignored me," Zhang said. "But later I witnessed our country's huge progress in the rule of law, and in the end I see justice. It was worth making all these efforts."
Zhang said she would go to her son's grave to comfort her beloved one after returning home to Luquan county in Hebei province.
I felt relieved for her - justice stood on her side. I also admired her. She did all these things to prove her son innocent with great resilience and courage.
Zhang Jiulin, a law school student at Liaoning University who also witnessed the pardon in the court's public gallery, told me that she held her breath when the ruling was about to be announced.
"I've expected that the guilty verdict could be overturned since the national leadership laid emphasis on the rule of law in recent years," Zhang said.
She said she had shared the moment with many of her friends via WeChat, a Chinese social media tool, which has been flooded by the news of Nie's pardon since the ruling was announced on Friday morning.
The lawyer Li also showed his satisfaction. "Justice comes late, but it comes at last," he said.
Winter in the Northeast China is cold, but the long-awaited reversal of Nie's guilty verdict has warmed the nation.