Smart 'robot fish' invented to explore underwater world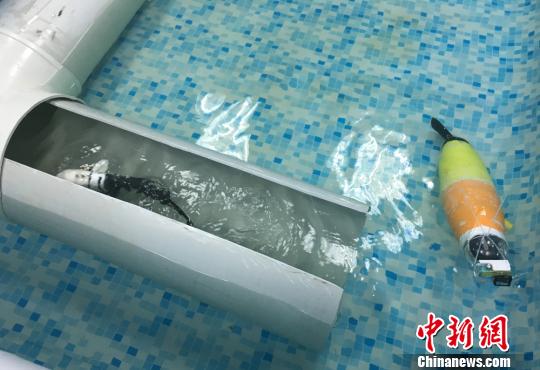 A robot fish inspects a pipeline. [Photo/Chinanews.com]
A team at Lanzhou Petrochemical Polytechnic has invented a smart "robot fish" that can explore underwater realms, Chinanews.com reported on Wednesday.
The robotic fish utilizes many advanced technologies, including mechanical electronics, sensors and artificial intelligence. It can be used for pipeline detection, hydrology, water quality monitoring, underwater rescue and more. The robot has won a number of prizes for its sophisticated craftsmanship and advanced technology.
According to Hong Zirong, supervisor of the team that built the robot, the majority of water pollution and logging problems are caused by pipeline ruptures or leakage. Research indicates that current pipeline detection technology has poor accuracy. This situation inspired Professor Hong and his students to develop a new technology that, unlike earlier technology, is able to examine pipelines from the inside.
The robot fish has high detection accuracy and sensitivity, but costs under 100,000 RMB. It can be controlled via both computer and mobile phone.
Ding Jiahui, one of the team's members, said that their professor's encouragement was very empowering. Gao Bo, head of the college, pointed out that the vocational education has overcome many of the shortcomings of traditional undergraduate education. Once the students enter the school, teachers guide them to grasp professional skills with a worker's attitude. Colleges then get feedback about students' post-graduation performance two to three years out, which supports a chain of quality education.
The college plans to introduce more technical teachers in the future to facilitate an environment of innovation and entrepreneurship, said Gao.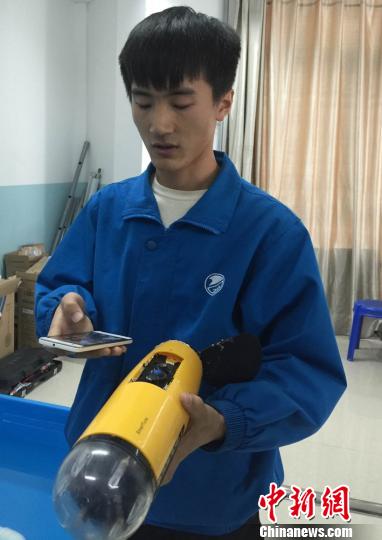 A student controls the robot fish with a mobile phone. [Photo/Chinanews.com]