5 cities begin issuing special license plates for new energy vehicles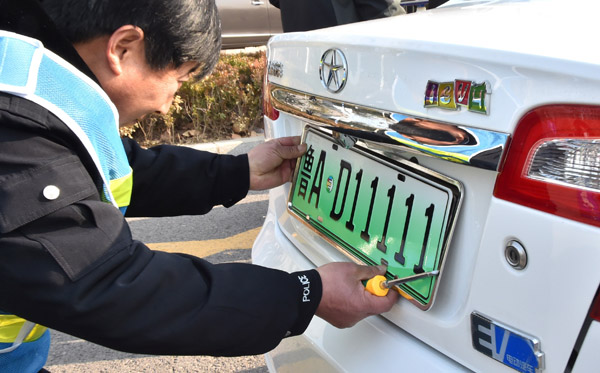 An employee of the Jinan vehicle administration department installs a plate on an electric car in Jinan, Shandong province, Dec 1, 2016. [Photo for China Daily]
China began a pilot program to issue special license plates for new energy vehicles in five cities on Thursday, in an effort to promote such vehicles and relieve pressure on energy use and the environment.
In addition to Shanghai, the eastern cities of Nanjing and Wuxi, Jiangsu province, and Jinan, Shandong province, as well as the southern city of Shenzhen, Guangdong province, have been chosen as pilot regions where people can apply for license plates exclusively for their new energy vehicles.
For those who apply beginning Thursday, new plates will be issued, while owners of already registered new energy vehicles can decide whether to replace their plates, according to the Ministry of Public Security.
Different from the traditional blue license plates, the new ones are green and 40mm wider than conventional plates. The special plates have an additional digit.
For new registrations, car owners can choose a plate number from among 50 available at vehicle management registration sites. Or they can choose at www.122.gov.cn or via the smartphone app Jiaoguan 12123, both of which give them the chance to pick a number they prefer or from random numbers, the ministry said.
Plate replacement for those who previously registered a vehicle can only be done online at www.122.gov.cn or via the smartphone app, the ministry said.
New energy vehicles include mainly battery electric vehicles, plug-in hybrid electric vehicles and fuel cell vehicles. Owners can apply to traffic management authorities for the new plates.
Since 2013, policies have been launched across the country to boost the development of new energy vehicles. By October, the number of battery electric vehicles in China had reached 555,000, of which more than 100,000 were in Shanghai.
Huang Qi, an official with the city's vehicle management authorities, said the move is significant for helping to develop and upgrade the industry.
"Such plates make it easier to recognize new energy vehicles. Favorable policies such as tax breaks may be introduced in the future," Huang said.
Wu Feng, owner of a Tesla Model X, was the first to install the new plates in Shanghai on Thursday. "It's very distinctive and eye-catching. It will be very cool to drive my car on the road with this plate.
"In the long run, such vehicles will be more and more popular in China," Wu added.
Wu said he also hoped that more policies could be rolled out for new energy vehicles. "For example, maybe some lanes could be set up exclusively for such vehicles," he said.
The Shanghai Transportation Commission said earlier this year that the number of charging stations in the city will reach 100,000 next year.
Wen Wenyi contributed to this story.