Surge in Chinese visiting US to create jobs
More than 3 million trips to the United States are to be made by Chinese tourists this year, directly creating about 45,000 jobs and indirect creating 230,000 jobs in the US, as revealed during the closing ceremony of the 2016 China-US Tourism Year on Sunday.
Last year, 2.59 million trips were made to the US by Chinese tourists, with total spending estimated at $30.1billion. In the first three quarters of this year, the number of Chinese travelers to the US surged by 14.7 percent compared with the same period last year, while the number of US travelers to China rose by 7.3 percent.
The total number of two-way Chinese and US travelers is expected to exceed 5million this year.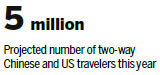 The China-US Tourism Year was announced by President Xi Jinping and US President Barack Obama in September last year during Xi's state visit to the US.
"I hope the two sides will build on the success of the China-US Tourism Year to sustain the momentum of people-to-people and cultural exchanges and enhance mutual understanding and friendship between our two peoples," Xi said in a letter read by Vice-Premier Wang Yang,who led a Chinese delegation to attend the closing ceremony.
In a letter read by US Secretary of Commerce Penny Pritzker, Obama said: "A future of peace, prosperity and friendship depends on our efforts to understand each other.
"That is why the US will continue to welcome the Chinese people to our shores, whether to hike in our national parks, dine in our vibrant cities, or learn more about our rich history. I also encourage Americans to discover all China has to offer," Obama said.
Xi and Obama met on Saturday in Lima, capital of Peru, on the sidelines of the APEC Economic Leaders' Meeting.