Baby beluga thrives in central China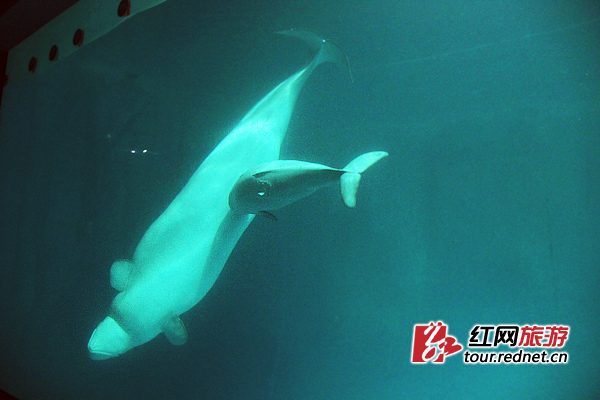 The newborn female beluga whale and her mother. [Photo/rednet.cn] 
CHANGSHA - A newborn female beluga whale has survived the high-risk period after birth in central China's Hunan Province, becoming the first to survive more than two months in an artificial feeding environment in China.
The whale was born Sept 22 and weighed about 100 kilograms at birth, said Wang Wei, a veterinarian with the Changsha sea world park in Hunan's capital. The beluga has grown to 1.7 meters long from 1.55 meters at birth.
"Beluga whales mainly live in the Arctic," said Wang. "It's extremely difficult for a mother beluga to conceive and deliver a baby in an artificial feeding environment. The baby whale is the first to survive two months in China, and it is also rare among captive beluga whales worldwide."
The whale's parents, Zhuoya and Shula, were sent to Hunan from Moscow in April and December 2010, respectively.
To ensure the calf's healthy growth, the park has moved the bad-tempered father whale out of the pool, leaving the baby and her mother together.
The calf feeds on imported cetacean formula milk powder and mashed fish, a diet that costs more than 1,000 yuan ($145) per day, as mother Shula has no experience nursing.
"Baby belugas cannot feed themselves by catching fish until they are six months old. We hope she can live happily here," Wang said.