Strong winds hit China as temperatures continue to drop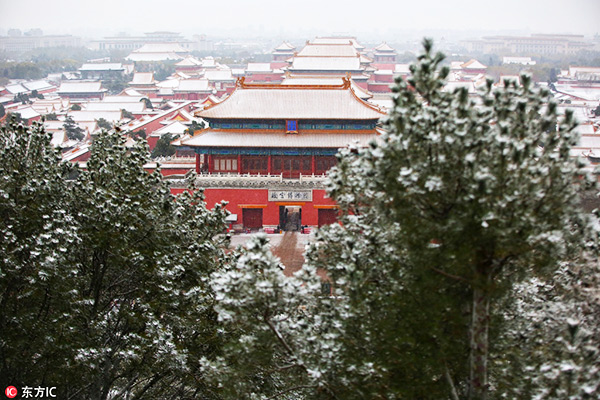 A view of the Forbidden City from the hilltop of Jingshan Park in Beijing on Nov 21, 2016. Amateur photographers and tourists flocked to the park to take photos as first snow of the season blanketed the capital. [Photo/IC]
BEIJING - Strong winds hit much of China after a cold front dragged temperatures down by more than 10 degrees Celsius.
Beijing and neighboring areas saw the first snowfall of the winter over the weekend.
A total of 1,506 snow-clearing vehicles and over 23,000 workers had been dispatched to cope with icy roads and possible road accidents by Beijing authorities as of 10 a.m. Monday.
Gales sweeping from the north have hit the capital city and will continue to affect the rest of China over the following days.
Freezing weather will linger until Wednesday, with blue alerts for cold spells issued in Beijing, Tianjin, Henan, Shandong, Jiangsu as well as Sichuan on Monday.
From Monday to Wednesday, temperatures in Beijing and neighboring areas are expected to drop to as low as minus 14 degrees Celsius, while parts of Hunan, Hubei, Jiangsu and Sichuan provinces will experience a drop of 7 to 10 degrees Celsius in temperature, according to local meteorological authorities.
China has a four-tier color-coded system for severe weather, with red being the most serious, followed by orange, yellow and blue.