Campus uses gym for Singles Day deliveries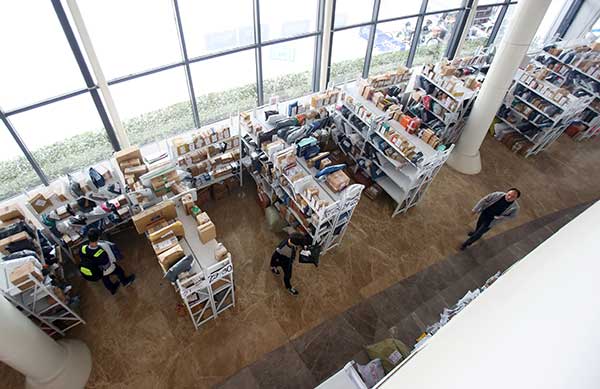 Zhejiang University's Zijingang campus in Hangzhou has converted a gymnasium into a mailroom, as about 200,000 packages are expected to arrive following this year's Singles Day online shopping festival.[Photo by Cheng Hui/For China Daily]
A college campus in East China has converted a gymnasium into a mailroom to cope with the sharp increase in parcels for students who bagged bargains on Singles Day, the online shopping festival.
Zhejiang University's Zijingang campus in Hangzhou has installed 200 racks to store the 200,000 packages expected to arrive in the two weeks following Nov 11, the date of the event.
"We handle 10,000 parcels on a normal day, but now we have to deal with up to 20,000 or more," said Wang Zhongjuan, a senior employee at the campus mailroom.
The university has directed all delivery drivers to drop off parcels at the gym.
The five-story storage racks that will handle overspill from the mailroom, which has 100 racks, have been installed around the periphery of the gym, which means students can still use the facilities as normal, said Chen Zhiqiang, a physical education teacher.
"I have four parcels to pick up, mainly clothes and cosmetics," said Gu Tao, a student at Zhejiang University. "One of my friends has more than 10 parcels."
Shi Huilin contributed to this story.