Getting conned helped tech graduate find his niche
Pei Zhiyong, 36, is a cybersecurity specialist at Qihoo 360 and head of 110.360.cn, a website set up to tackle online and offline fraud.
I've been working in internet-related jobs since graduating from college with a major in multimedia telecommunications, but it was an incident six years ago that made me want to take on online fraud.
In 2010, my two air-conditioners at home broke. After searching online, I found a repair company that sent over some workmen. The company appeared professional, but I was surprised when the workmen asked for more than 4,000 yuan ($615) upfront to carry out the repairs.
They claimed I needed new parts. I refused to pay that amount and we later settled on 600 yuan, covering the repairs and additional coolant for the air-conditioners.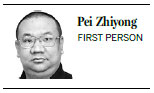 I thought I'd been smart, as I hadn't paid the money they asked for. Later, I discovered the service shouldn't have cost more than 200 yuan and that the workers had not even fixed the machines properly. I'd been cheated.
After this experience, I never laughed at others who had been swindled. I'd met these people face to face, and I was still defrauded, let alone those whose money has been taken after they just replied to a text message or answered a stranger's call.
In 2012, I started working at Qihoo 360 and saw a chance to fulfill my wish to fight online fraud.
I was put in charge of a group to look at fake information on the internet and we established links with other internet enterprises in Beijing to share information.
Many people are swindled, and not because they are foolish or naive. Instead, it comes down to their lack of knowledge of how to distinguish between fake and real information, and carelessness in releasing personal data.
Finding fraudsters is the first step, but arresting them and helping others to avoid being cheated is the key.
I'm in charge of analyzing reports and uncovering new kinds of fraud, and then sharing solutions for netizens.
Fighting fraud is a battle. As we learn how fraudsters operate, they change their behavior. It's this change that motives me to analyze more and share more, and coordinate with police to stop them.
Pei Zhiyong spoke with Cao Yin.