China pledges to cut coal emissions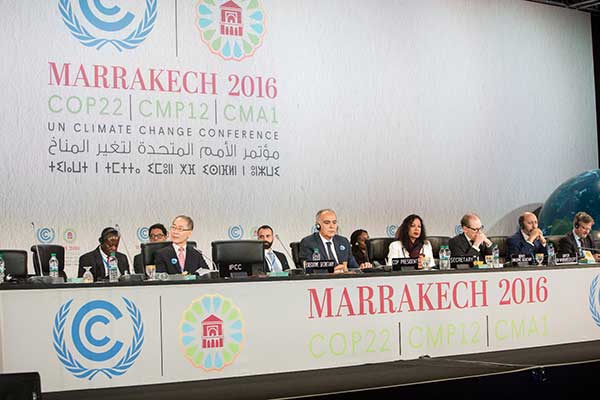 The twenty-second session of the Conference of the Parties (COP 22) officially opensing on Monday. [Photo provided to chinadaily.com.cn]
China would strive to lower carbon emissions in the next five years while shouldering common but different principles, the deputy head of the Chinese delegation said on Monday.
Speaking on the first day of the United Nation Climate Change Conference (COP22), Xie Ji, deputy head of the Chinese delegation, said China would continue to wean the economy from coal fired to more sustainable one.
The Chinese delegation, consisting of more than 80 participants, will negotiate with other parties to discuss details regarding how to move forward to achieve the Paris Agreement during the two-week meetings held in Marrakech, Morocco.
"China has just released five-year plan for cutting carbon emissions lelves, that means we will sure to stick to that," said Xie, referring to the nation's greenhouse gas emission plan released on Friday, which aims to cut 18 percent of emissions per GDP, compared with that in 2015 by the end of 2020.
As the world's second largest economy, China is moving faster than expected along the path to de-carbon its economy to meet the target set in the Paris Agreement, according to Xie, where the nation pledged to cut emissions per GDP by 40-45 percent, compared to the level in 2005, by 2020, suggesting CO2 emissions would peak in 2030.
By the end of 2015, China cut its carbon intensity by 5.6 percent, better than the 3.6 percent outlined in the 12thfive-year plan.
Commenting on expectations for the climate change conference, Xie said China would sure to contribute together with other partieson all fronts to achieve goals in the Paris pact, and strive to do a better job as long as efforts are in line with the nation's sustainable economic development goals.
"China would continue to shoulder common but differentiated principles," said Xie.
In the meantime, China would provide financial and technical support to help other developing countries to enhance capacity building to combat climate change, according to Xie.
China has pledged to support and facilitate developing countries to fight with climate change challenges under South-South Cooperation scheme.
"China will help establish pilot low-carbon zones in developing countries in support of vulnerable countries," said Xie.