Parents await details on profit rules
Parents and academic administrators are taking a wait-and-see attitude regarding new rules that bar elite private schools from profiting from tuition paid for Chinese children in grades one to nine.
The revised law on private education was passed on Monday after a 124-24 vote at a session of the Standing Committee of the National People's Congress, which is the nation's top legislature. It states that schools will not be allowed to generate profits from the nation's nine years of compulsory education for local students.
Some have warned the rule change could deal a blow to private schools that offer international courses and recruit students from wealthy Chinese families.
Officials said the revised law aims to ensure equality among children in the compulsory education phase.
For-profit private schools in Beijing and Shanghai did not respond to requests for comment on Monday. However, Ada Jen, an administrator at the nonprofit International School of Beijing, who is close to people working at for-profit schools, said such institutions are mostly operated with domestic capital and are unlikely to completely withdraw from the Chinese market.
"What we could see is them withdrawing from primary and junior middle school education and focusing more on kindergartens and high schools," she said. "Otherwise, they have to attempt to transform themselves into nonprofit institutions."
Her school, which recruits only foreign students, will not be affected by the revised law.
Jen said elite, for-profit schools have not taken any immediate action in response to the law as far as she knows. She said it's still hard to say what will happen. "More effects will be understood only after more details of the law are released."
Wang Qiang, whose daughter is a third-grader at a private school in Beijing's Haidian district costing many thousands of yuan a year, said he had not received any information on his daughter's school.
He said if the school stops providing compulsory education, he and his wife can try public schools because both hold Beijing hukou, or permanent residency, which is required for children to attend public schools in the capital.
"But I really don't want to see that happen," Wang said. "For cities with large populations and comparatively insufficient public education resources like Beijing, private schools are not a supplement but a must."
He Chugang, general manager of the South China region at Amber Education, an overseas study consultancy, said parents of students at elite schools may send their children abroad as an alternative, if such schools halt their operations and local public schools don't have the capacity to absorb them.
"Many parents chose such schools as a preparation or a transition for their children to study abroad," he said. "The changes in private education might push them to make that decision ahead of schedule."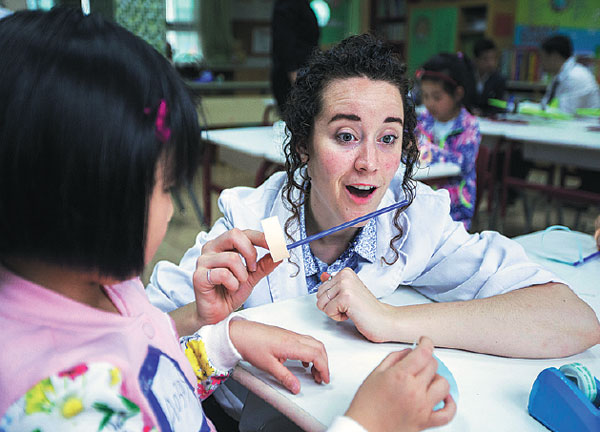 A teacher talks with children at a private school in Hangzhou, Zhejiang province, in April. New rules ban profits on tuition for compulsory education for Chinese students. Xu Kangping/ For China Daily