Unmanned combat drone to be exported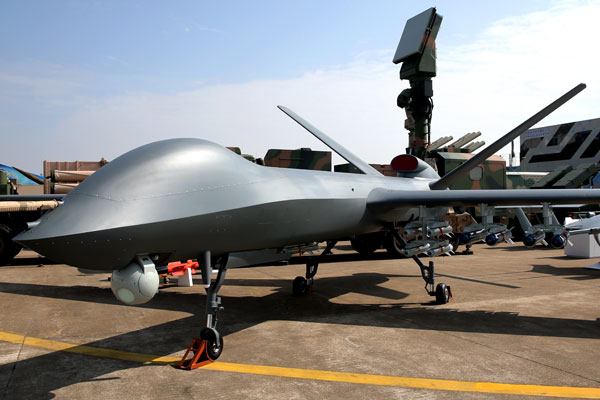 A CH-5 combat drone is on public display at the Zhuhai Air Show in Guangdong province on Monday. [Photo by Feng Yongbin/China Daily]
CH-5 is twice as big as its predecessors, can stay in the air for 60 hours and go up to 10 km high
China has granted an export license for the CH-5 reconnaissance/combat drone, which is believed to be one of the most powerful unmanned combat aircraft in the world.
"Several foreign nations have expressed intentions to purchase the CH-5, and we are in talks with them," said Shi Wen, chief designer of the Caihong, or Rainbow, series at the China Academy of Aerospace Aerodynamics in Beijing.
"I can't tell you more details, except that the drone is ready for export," he told China Daily in an exclusive interview on Monday, the day before the 11th China International Aviation and Aerospace Exhibition, commonly known as the Zhuhai Air Show, begins in Zhuhai, Guangdong province.
Compared with the United States' General Atomics MQ-9 Reaper, a hunter-killer drone often deemed by Western analysts as the best of its kind, the CH-5 "can perform whatever operations the MQ-9 Reaper can, and is even better than the US vehicle when it comes to flight duration and operational efficiency," Shi said.
"Another advantage is that the CH-5 is capable of making a joint strike together with its predecessors, the CH-3 and CH-4, because they can share the same data link and control system. Therefore, it is very easy for current users of the CH-3 and CH-4 to introduce and integrate the CH-5 into their drone network."
Moreover, the CH-5 is able to carry an airborne early warning system to act as a platform for regional surveillance, and battlefield command and control. It also can carry electronic warfare instruments to collect electronic intelligence and to jam enemy communications or radars.
The CH-5 made its first flight in August last year, becoming the mightiest military drone in China in terms of operational endurance and payload capacity.
The drone is made of composite materials and has a wingspan of 21 meters. Twice as big as its predecessors in the CH family, the drone can stay in the air for about 60 hours and operate at an altitude of up to 10 km, Shi said. Its current maximum range is 6,500 km, and a future upgrade will enable it to fly as far as 10,000 km, he added.
The CH-5 is able to carry 1,000 kg of equipment and weapons. It will carry 16 air-to-surface missiles when displayed at the air show, but its largest capacity is 24 missiles in a single flight, engineers at the academy said.
Compared with the prototype for the test flight, the drone's mass-production model has a more streamlined nose and an electro-optical instrument mounted under the nose.
Shi said designers plan to develop a CH-5 that will be capable of staying in the air for up to 120 hours, with a 20,000-km range.
The China Academy of Aerospace Aerodynamics, part of China Aerospace Science and Technology Corp, is China's largest military drone exporter by number of products sold overseas. Its CH-series drones have been sold to military users in more than 10 countries, he said.
Lan Wenbo, project manager of the CH-5, said his academy is willing to transfer technologies to users, an attraction that Western suppliers do not offer.
Other equipment from Shi's academy is the CH-805 high-speed target drone, a flying wing that resembles the Northrop Grumman B-2 Spirit. It has a tiny radar signature of 0.01 square meters, so it can be used for anti-stealth aircraft drills and reconnaissance tasks, according to academy materials.