China-Ireland student exchanges on the rise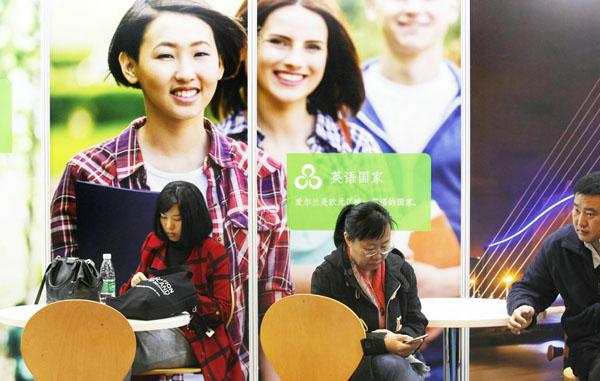 Visitors collect information at an exhibition booth of Irish education institutes on Oct 22 during the China Education Expo in Beijing. [A QING/ For CHINA DAILY] 
Low costs, environment, friendly people and culture are said to appeal to Chinese students
Ireland is seizing opportunities to boost student exchanges with China, according to Irish education officials.
The recently concluded China Annual Conference for International Education saw Irish higher education institutions sign partnership agreements with Chinese counterparts, according to Niamh Madden, a Beijing-based education market executive from Enterprise Ireland, a government agency focused on accelerating development and growth of Irish enterprises in world markets.
The conference, the 17th of its kind, which was held in Beijing from Oct 20 to 23, was aimed at improving mutual knowledge of, and cooperation on, education between China and other countries.
Richard Bruton, Irish Minister for Education and Skills, described the conference as a "very important milestone" for Ireland-China relations.
"We hope that at this conference, where we have been made the country of honor, we can bring some of the knowledge that we have acquired over the years. But more importantly, we hope to learn from you about your needs and your experience," he said.
Statistics from Education in Ireland showed that more than 5,000 Chinese are studying in Ireland, forming the second-largest international student group there after the United States.
Education in Ireland is managed by Enterprise Ireland under the Ministry for Education and Skills. Its mission is to promote Irish higher education institutions overseas.
This year, more than 1,800 Chinese students applied for visas to study in Ireland, a 10-percent rise from last year. And the visa acceptance rate has grown from 96 percent to 98 percent.
"We hope to increase (the number of Chinese applying for student visas for Ireland) by another 10 percent or perhaps more next year," Madden said.
In her eyes, Ireland has many attractions for Chinese students: "Our universities are very highly ranked and Ireland is the only country in the European Union and the eurozone that is English-speaking."
Also appealing are the low costs, the environment, the friendly people and the fabulous culture, Madden said.
Science and technology, and sports science are popular choices of major among Chinese students in Ireland.
Madden said she believes that majors such as information technology will also attract an increasing number of Chinese applicants, as Ireland has many multinational, big-brand companies.
To lure Chinese students, Education in Ireland launched the Claddagh Scholarship Program in September last year, which is specifically for Chinese applying to study in Ireland, whether for undergraduate, master or doctoral courses.
So far, 18 Irish higher education institutions have joined the program and will offer scholarships, worth more than 500,000 euros ($545,800).