Palace Museum to build new offshoot for more exhibits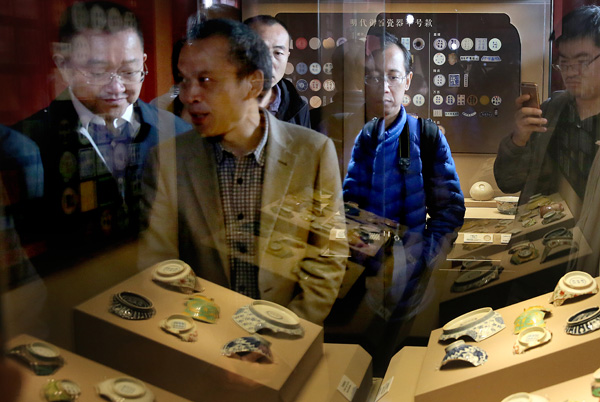 Visitors admire porcelain items at an exhibition in the Palace Museum in Beijing on Oct 25, 2016. [Photo by Jiang Dong/China Daily
The Palace Museum will build a new museum in northern Beijing to showcase more items, as current exhibits displayed each year account for less than 1 percent of its collection, said Shan Jixiang, curator of the museum.
According to Chinanews.com, Shan made the announcement during the International Smart Tourism Conference in Hangzhou, Zhejiang province. He said that the Palace Museum, which is a tourist destination and a cultural education institution, cannot display its abundant collection in full.
Major museums around the world usually display about 10 to 20 percent of their collections, while the Palace Museum is able to display just 0.5 percent of its entire collection over about 80 exhibitions each year.
The plan to build a new museum has been approved by the authorities and is already underway.
Shan said that the new museum, which is 25 kilometers from the current site, is in a picturesque area near other tourist attractions, north of the Old Summer Palace, and south of Badaling Great Wall and the Ming Tombs. The new museum will cover an area of 12,500 square meters, he said.
The new site will showcase a large number of exhibits with different themes, and the public will be able to view the process of cultural relic restoration.
"The new museum will be a green, low-carbon development and an example of modern architecture built to best accommodate collections and visitors," Shan said.
The Palace Museum is one of the largest wooden architectural complexes in the world and receives more visitors than any other museum worldwide.
It is considered by many to be one of the world's top museums, alongside the Louvre Museum in France, the Metropolitan Museum of Art in the United States, the British Museum in the United Kingdom and the Winter Palace in Russia.