Peking University welcomes second cohort of Yenching scholars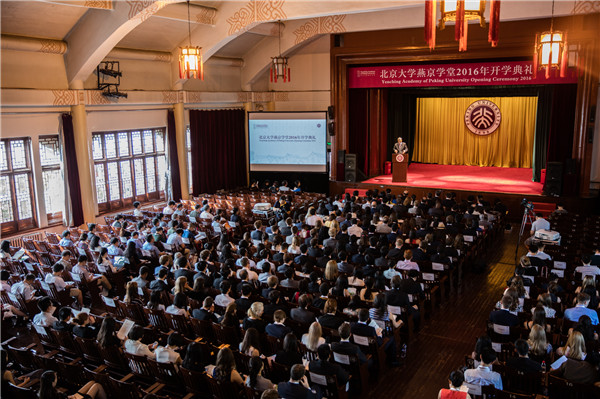 The Yenching Academy holds its opening ceremony on Saturday to welcome the second cohort of Yenching scholars at the auditorium of Peking University's landmark administrative building. [Photo provided to chinadaily.com.cn]
The Yenching Academy of Peking University held its opening ceremony on Saturday to officially announce the beginning of the 2016 academic year and welcome the second cohort of Yenching scholars.
The ceremony, which took place at the auditorium of the university's landmark administrative building, was hosted by John Holden, associate dean of the academy.
The Yenching Academy, offering master programs on Chinese studies to outstanding students from across the world, was officially launched in May 2014. It ushered the first cohort of Yenching scholars in September 2015.
This year, the second batch comes from 42 countries and regions from across the world, including Argentina, Bangladesh, Brazil, Canada, Cuba, India, Kyrgyzstan, Russia, Ukraine, and the United States.
Zhu Shanlu, Chair of the Peking University Council, extended welcome to them on behalf of the university. He hoped that the Yenching scholars could bring excellent thoughts and culture from different countries and regions of the world to Peking University and create their own future in the exchange with their brilliant peers.
Fang Jun, deputy director of the Education Ministry's international cooperation and exchange department, called on the scholars to make full use of the great sources provided by the academy and the university, to learn about China in an all-round, in-depth way.
Liu Jinghui, Secretary-General of the China Scholarship Council, told a story about her own dream of studying at Peking University and urged the Yenching scholars to "grab" every single opportunity at the academy to make more friends from other countries, to get to know more about China and the world and to make an impact on life and study.
Before the ceremony ended, three Yenching scholars were also invited to the stage to share their visions about and their experience at the academy.
A brief reception was held after the ceremony to welcome the new cohort and to foster the communication among the two cohorts and the faculties.
Guests including diplomats of many countries' embassies, officials from the Ministry of Education and the Peking University, as well as faculties of the academy attended the ceremony.