Sino-British College celebrates 10th anniversary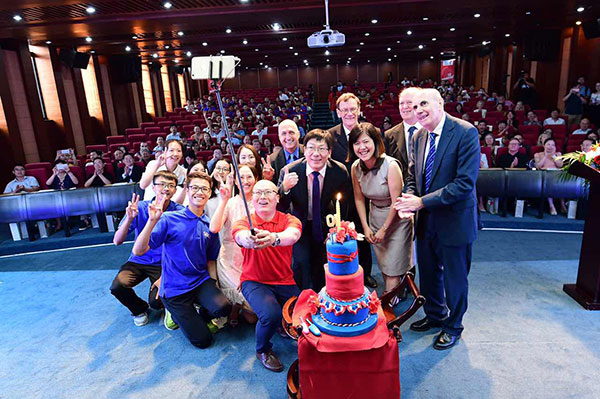 Professors, students and distinguished guests celebrate the 10th anniversary of the founding of the Sino-British College, the University of Shanghai for Science and Technology. [Photo/chinadaily.com.cn]
The Sino-British College, a joint venture between the University of Shanghai for Science and Technology and nine UK universities, all members of the Northern Consortium UK, celebrated its 10th anniversary at the weekend.
SBC is the only higher education institution in Shanghai that brings together a Shanghai university with nine others from the UK, offering pathways to the UK universities and providing a vast choice in terms of institutions and programs for students to continue their studies, mainly related to majors in business, and science and technology.
SBC said its vision is to be renowned as an international hub and center of excellence, attracting students and faculty from all over the world, with a reputation for developing socially responsible and innovative leaders capable of operating in different cultural settings.
SBC principal John Wilson said the college has an ambitious growth plan.
"Our 2025 vision includes establishing a postgraduate portfolio, constructing two research centers, one focusing on enterprise and innovation and the other on cross-cultural leadership, and achieving a step change in our international student profile," he said.
The college has 1,600 students, including about 100 from 30 foreign countries and regions. It also has nearly 80 foreign professors and teachers recruited from around the world.