Field trips to companies enrich learning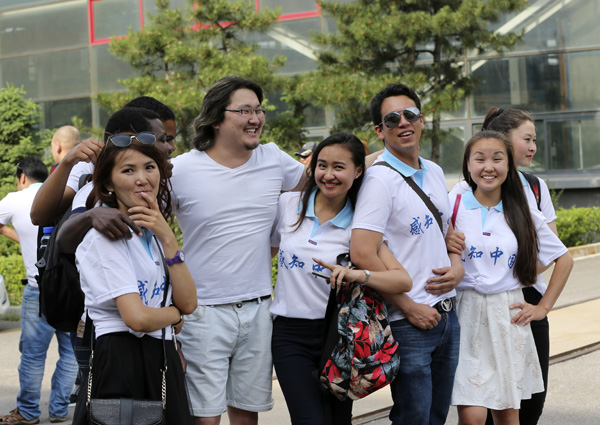 Foreign students pose for photos during their visit to Shenyang Yuanda Enterprise Group on June 3. [Photo by FENG YONGBIN/CHINA DAILY]
Doctoral student Dang Dinh Huy was surprised to be invited to participate in off-campus visits to some of China's most advanced automation, automotive and machinery manufacturing companies-a project organized by the China Scholarship Council in Shenyang, Liaoning province.
"I am very lucky to have the chance to visit," Dang said. "It helps me have a clear view of China's outstanding enterprises and the potential future of my career."
The 26-year-old Vietnamese student, sponsored by CSC, is pursuing his mechanical manufacturing and automation control doctorate at Northeastern University, the leading engineering and technology university in China.
Some 90 students from 26 countries visited Shenyang, China's vital manufacturing base in the Northeast. And three leading companies for the first time opened the gates for them-Siasun Robot & Automation Co, BMW Brilliance Auto (a Sino-German joint venture) and Shenyang Yuanda Enterprise Group.
The organizer said that such off-campus visits aim to help overseas students see and understand China's advanced manufacturing industry and attract more international students in coming years.
"Liaoning, as the cradle of China's manufacturing industry, has a big advantage in engineering colleges. And a large number of overseas graduates are now working in important positions in their own countries," said Li Wei, deputy director of Northeastern University international cooperation and exchange department. He is also the driving force of the trip.
Four other engineering universities were also invited to join the program, including Shenyang University of Technology, Shenyang Ligong University, University of Science and Technology Liaoning and Liaoning Technical University.