Taiwan driver set fire to tour bus to kill mainland tourists: Media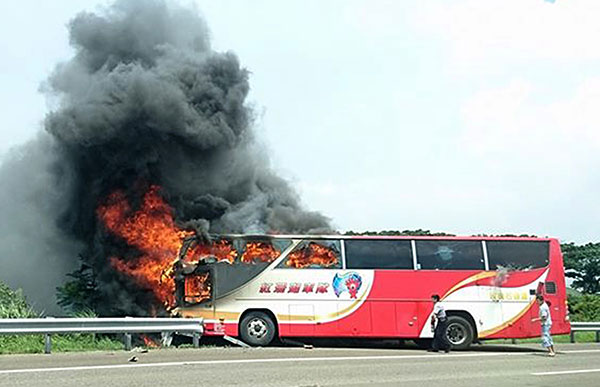 A tour bus catches fire on highway to the Taiwan Taoyuan International Airport in Taiwan, July 19, 2016. [Photo by China Times/Asianewsphoto]
The driver of the tour bus in which 26 people died on July 19 might have set fire to the vehicle after quarreling with his wife who had decided to return to Chinese mainland as the driver was involved in a sexual assault case, Taiwan media reported.
Investigators claim the quarrel might have led the driver to vent his anger on the mainland tourists.
The driver drank lots of liquor while driving to the Taoyuan International Airport on July 19, and poured gasoline on the water fountain and the panel board.
After the accident, the driver's father said that the daughter-in-law has gone back to mainland with three children, and "will never come back."
In the worst ever road accident for Chinese mainland visitors to the island, the entire tour group of 23 tourists and a guide were killed. The driver and another tour guide from Taiwan also died.
On Monday, a tour bus crash in Macao injured at least 32 mainland tourists. Macao police said the accident occurred when the bus was going downhill close to the Ruins of St. Paul, a well-known tourist attraction.
A white van rear-ended the bus, and the bus driver got out to check the situation.
The bus started rolling down the slope without the driver and rammed into a roadside clinic.
Macao's Health Bureau said 10 people remain hospitalized.