Vice-chancellor sees value in small classes, access to professors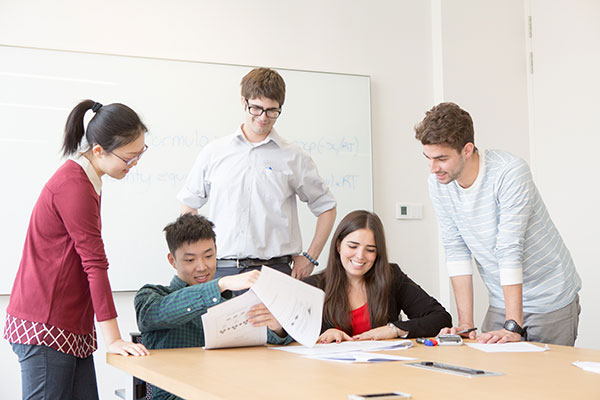 Students discuss a team project at Duke Kunshan University, in Kunshan, Jiangsu province. Provided To China Daily
Editor's Note: China Daily is publishing a series of reports on universities jointly established by education institutions from China and overseas. As the colleges get busy with recruitment, our reporters visited them to talk with senior leaders, teachers and students.
When China opened its arms to international universities, Denis Simon, executive vice-chancellor of Duke Kunshan University, saw the jointly founded institution as transforming Chinese higher education.
"The idea of actually allowing seven, and soon to be nine, foreign universities that have campuses in China is something in the '80s and '90s you wouldn't have thought would happen. ... It's an exciting opportunity, and I see it as a watershed moment in Chinese higher education," Simon said during an interview with China Daily.
Located in Kunshan, Jiangsu province, Duke Kunshan University was jointly founded in 2013 by two prestigious universities - Duke University in the United States and China's Wuhan University - as a new model to advance China's higher education system.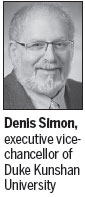 "Duke came specifically to deliver a liberal arts education to China, and to provide an innovative education platform. At Duke Kunshan, not only can we educate young people in China but we also serve as a kind of test base to see what features across the liberal arts experience can be adapted or even translated to something that can be used and applied in a Chinese university context," Simon said.
Since 2004, the Chinese government has approved the establishment of independent Sino-foreign universities across the country in the hope that these joint-ventures will help facilitate the transfer of international education experiences and import advanced management, teaching methods as well as curriculum systems.
Duke Kunshan received its first class in 2014 and currently offers four master's programs: global health, environmental policy, medical physics and management studies. In addition, there's a nondegree undergraduate program called the Global Learning Semester.
The first global health and medical physics class just graduated in June. The management program has already graduated two classes.
Simon took great pride in these graduates, 90 percent of whom got a job within six months.
The undergraduate program delivers satisfying outcomes, too. Eighty percent of the students in the Global Learning Semester are Chinese from more than 20 elite universities domestically.
A big move for the joint venture coming. It hopes to launch its initial undergraduate degree programs starting in 2018.
According to Simon, the university eventually hopes to recruit as many as 500 students a year, which means the number of undergraduates will reach 2,000 within four or five years.
Simon is also confident that there will be 200 faculty members, some of whom will come from Duke in the US, with 60 percent will be hired directly by Duke Kunshan. That will provide a student-faculty ratio of 10 to 1.
In this way, Simon believes, students will get what they call a "high-touch experience", which means small classes, closer interaction and quality education to help nurture critical thinking among students.
"It's a really positive message that the students can get engaged with their professors on a regular basis," he said. Simon also noted that the university will invite many corporate, government and NGO leaders to serve as career mentors for each student at Duke Kunshan.
Hu Anqi contributed to this story.
Contact the writers at zhaoxinying@chinadaily.com.cn