College redefines learning mission
Editor's Note: China Daily is publishing a series of reports on universities jointly established by education institutions from China and overseas. As the colleges get busy with recruitment, our reporters visited them to talk with principals, teachers and students.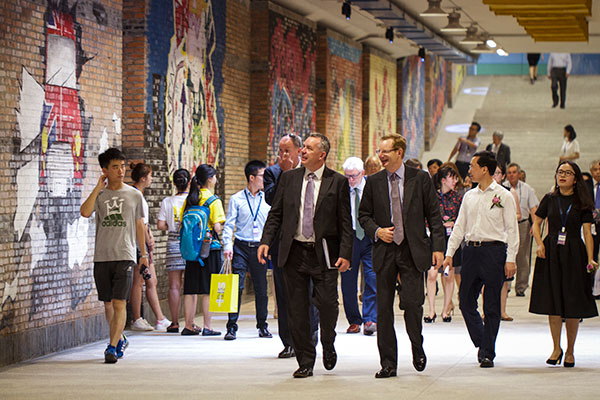 Foreign guests visit Xi'an Jiaotong-Liverpool University in Suzhou, Jiangsu province, on July 26, as the school celebrates its 10-year anniversary. Provided to CHINA DAILY
What makes reform extraordinary is the opportunity it gives to some individuals-so long as they keep experimenting and thinking hard.
That is the message of Xi Youmin, executive president of Xi'an Jiaotong-Liverpool University, one of the few Chinese-foreign joint-venture universities, which is beginning to be recognized around the world.
"Our first goal was to get known in 10 years," Xi told China Daily. "Our second goal is to achieve international fame in 100 years."
Founded in 2006, the university is a partnership between Xi'an Jiaotong University and the University of Liverpool. It is based in Suzhou, one of China's most affluent cities.
"I took the first national college entrance examination when the system was restored after the end of the "cultural revolution" (1966-76).
"That enabled me to become one of the first group of Chinese students to major in management," Xi said.
And ever since, being a good manager of education has been his passion.
When the government allowed international cooperation at the college-level, the university decided not to be an alsoran.
"Most of the joint ventures are teaching centers in China for overseas universities, placed within some Chinese colleges," Xi said.
Next are the overseas universities' branch campuses.
"But what we wanted, from the very beginning,was an independent, fully-fledged university that can best utilize global resources and resources from its two parent universities," Xi said.
Professors and students are recruited internationally.