Chinese bullet trains cross in world first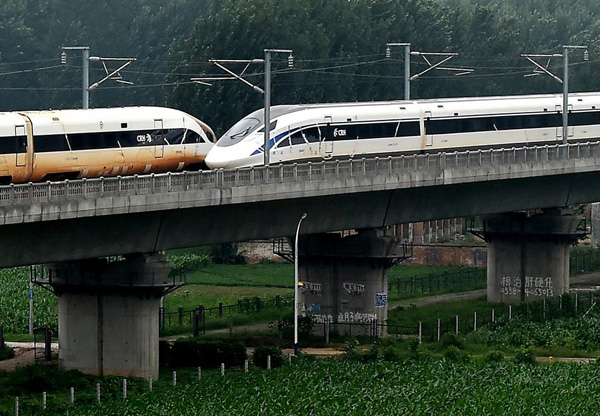 At about 11:20 am, the two trains, "Golden Phoenix" (left) and "Dolphin Blue," traveling at 420 km per hour, cross on lines between Zhengzhou in Central China's Henan province and Xuzhou in East China's Jiangsu province, on July 15, 2016. [Photo/Xinhua]
BEIJING - Two Chinese trains dashing at world-record speeds in opposite directions passed each other on parallel tracks on Friday, in the latest feat achieved by China in high-speed rail.
At about 11:20 am, the two trains, "Golden Phoenix" and "Dolphin Blue," traveling at 420 km per hour, crossed on lines between Zhengzhou in the central Henan Province and Xuzhou in the eastern Jiangsu Province.
The experiment set a world-first for trains traveling at such speed, Zhou Li, head of the technological management department of China Railway Corporation, told Xinhua.
Zhou said the achievement, using homegrown trains, demonstrated that China has fully mastered the core technology of high-speed trains.