Joint Sino-French satellite to study ocean waves, wind
China has begun to build the first Sino-French satellite and plans to launch it in 2018 to improve oceanographical research, according to Chinese space scientists.
The development of the prototype of China-France Oceanography Satellite, known as CFOSAT, has finished and production of the satellite has started, said Dong Xiaolong, assistant director of the Chinese Academy of Sciences' National Space Science Center.
Once put into service, CFOSAT will measure the wind and waves on the ocean's surface, contributing to forecasts for mariners and early warning of disasters, he said.
The satellite will carry two major instruments - the French-developed surface wave investigation and monitoring radar and the Chinese-developed wind scatterometer.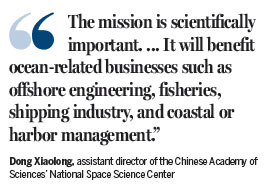 "The mission is scientifically important and meaningful because it will help us improve our overall understanding of the ocean and climate variations.
Moreover, it will benefit ocean-related businesses such as offshore engineering, fisheries, shipping industry, and coastal or harbor management," the scientist said.
Dong made the remarks on the sidelines of the 2016 International Geoscience and Remote Sensing Symposium in Beijing on Sunday. The event is held by the Institute of Electrical and Electronics Engineers, the world's largest association of technical professionals, and was to last from Sunday to Friday.
Started in 2006, the CFOSAT is the first satellite jointly developed by China and France. Its design is based on China's CAST 2000 satellite platform, which has been used for more than 10 satellites, said Wang Lili, chief designer of the satellite at China Aerospace Science and Technology Corp.
The satellite will be launched atop a Chinese Long March carrier rocket in 2018, she added.
In addition to CFOSAT, space authorities in the two nations have also agreed to enhance their cooperation in the space-based astronomy by co-developing the Space Variable Objects Monitor satellite to study gamma-ray bursts, according to the China National Space Administration.
The dynamic partnership of China and France in space is an icon of the scientific and technological cooperation between the two countries, Jean-Yves le Gall, president of the French National Center for Space Studies, told Xinhua News Agency in Paris earlier this month.
zhaolei@chinadaily.com.cn
(China Daily 07/12/2016 page3)