Should traffic be controlled for gaokao?
Around 9.4 million Chinese students took the gaokao, China's college entrance examination, in early June. Despite the fact that young people have more choices nowadays than in the past, the test continues to be regarded as a crucial, life-changing event.
It's not unusual to find students who have studied 12 or 14 hours a day on most days and for most of their lives to prepare for university studies.
That's why local authorities and parents have done everything possible to make sure the test goes smoothly.
One measure taken lately is traffic control and noise abatement around examination venues to create a peaceful environment so that test takers are not distracted.
Such measures spread the gaokao pressure to the whole society, critics say. Although some are willing to cooperate "for the sake of the students' future", many have argued that such measures are overprotective and place an unnecessary burden on society.
FOR TRAFFIC CONTROL
I have escorted my students to take the gaokao every year, and I can say that those students were all under great pressure. The education system decides that their college choices will be determined by this specific exam. Many are smart and brilliant students but may lose their battle for small reasons.
Zhou Chen, teacher from Taizhou, Jiangsu province
Traffic control and other temporary measures don't last a very long time. I think it's not a big deal. As a matter of fact, I take this sacrifice as a sign of special caring for students by society. I myself was also taken care of when I took my gaokao back in 2005. I can still remember how strangers told me to relax and don't get nervous on my way to the examination venue. I am more than happy to pass the care from strangers to other students. Despite many saying that the gaokao is no longer as important as it was, I still think it is an important chance for students from poverty-stricken areas to change their destiny.
Li Mengyue, civil servant from Wuhan, Hubei province
AGAINST TRAFFIC CONTROL
The first and the most important lesson students should learn before graduation is to respect other people's interests instead of only focusing on their own. Yes, the gaokao is very important to students and may be the only chance for them. But for those who don't take the gaokao, it means an annual inconvenience. Many people may not get the traffic control information in time. This means that they could be trapped on their way to an important meeting or could miss an important phone call.
Zhang Hui, advertising company employee in Shanghai
Many parents and students are too sensitive to the gaokao. It seems like one's destiny is decided by a bus passing around the exam venue. When I took my exam, my parents were in another city and I took a bus to take the exam. Many of my friends were the same. And I didn't hear some sad story about failing an exam because a driver honked his horn outside the window. One's destiny rests on one's self, not on society. If many parents think it is reasonable to disturb other people's lives for the gaokao, I believe more parents would think it's reasonable to do so for every exam. It would be a chaos for the whole society.
Wang Pengfei, insurance company employee in Beijing
suzhou@chinadaily.com.cn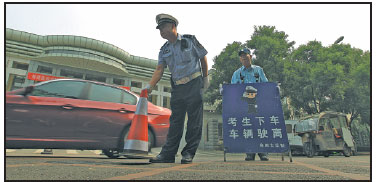 Traffic police set up safety cones at the gate of Dongzhimen High School ahead of the gaokao in Beijing on June 6. Cheng Gong/ For China Daily