Recruiting model opens path for talent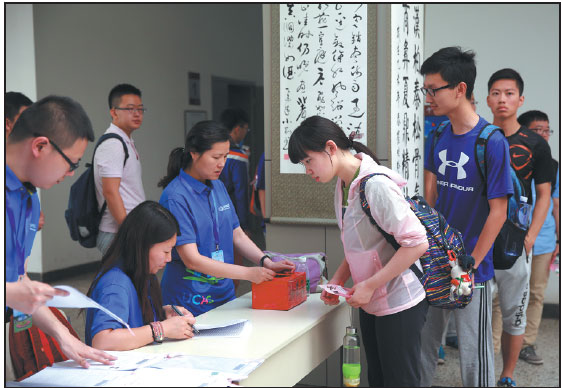 Candidates check in for their recruitment interviews for undergraduate admission at the University of Chinese Academy of Sciences in Beijing last week. Zou Hong / China Daily
Interviews, test scores, academic work identify well-rounded students
Which one do you think is more challenging, to be a scientist or a politician? That was the question German Chancellor Angela Merkel asked during a speech to University of Chinese Academy of Sciences students on June 12.
Several days later, the same question was raised again during the university's recruitment of undergraduates.
The question, described by the university's Vice-President Wang Yanfen as one open to virtually any answer, is one example of what applicants may encounter in a recruitment interview.
"As we are looking for talented people with strong interest in science and the potential of becoming scientists, we try to figure out the applicant's ability portfolio by asking a series of questions like this," Wang said.
Unlike most universities in China, the University of Chinese Academy of Sciences recruits students not solely based on their score in the gaokao, the national college entrance exam.
Rather, it evaluates candidates 60 percent on the gaokao, 30 percent on the interview and 10 percent academic performance in high school.
It was the third year the university - formerly a graduate school - has used the "6 plus 3 plus 1" model to recruit undergraduates.
What's special this year is that CAS academicians, including one from overseas, were invited to conduct interviews.
Li Jiachun, an academician and the director of the university's engineering college, was among the interviewers.
"A face-to-face interview is very necessary and important in judging whether a candidate is eligible, as you can't see everything about the candidates - strengths or weaknesses - solely through the gaokao," he said.
"The recruitment model we are using to select future students seems to be more reliable."
After talking to dozens of applicants, Li said all the students' interviewers had some preferences in common: candidates with lots of hands-on experience who are good at expressing themselves, who have knowledge beyond textbooks and who have hobbies.
"I enjoy talking with them," Li said. "It gives me an opportunity to get acquainted with my future students in advance."
The university will select 15 from about 350 Beijing applicants - a more competitive picture than last year, when 220 candidates vied for 25 places.
Guo Tiande, who is in charge of the university's recruitment in Beijing, said the increasingly fierce competition arises from students, parents and the whole society's recognition of the recruitment model.
Yan Yu, a Beijing resident whose daughter took part in a recruitment interview in June, said she appreciated the model because it considers students in an all-around way so that capable candidates can stand out.
Apart from the University of Chinese Academy of Sciences, a few higher education institutes in China, such as Southern University of Science and Technology and Zhejiang University, are recruiting undergraduates in similar ways.
"The model may get more followers among universities of China in the future," Li Jiachun said.
Different approaches allow schools to find best fit
Independent recruitment has long been a way for students to gain admission to universities in China. It is also an important way for higher education institutes to select the talent they want.
Students who wish to be accepted this way must perform well in the tests organized by universities, which usually consist of written exams and interviews.
Then they should exceed a specific threshold in the national college entrance exam.
The score is usually a few points lower than for students who didn't take the independent tests.
The Ministry of Education stipulates that those recruited this way should make up no more than five percent of students.
The "6 plus 3 plus 1" recruitment model adopted by the University of the Chinese Academy of Sciences - wherein the national test scores are worth 60 percent, the interview 30 percent and high school academic performance 10 percent - is also a form of independent recruitment, empowering the university to select students according to its own needs.
Currently, 90 universities of the 2,000-plus in China, including some of the best, such as Peking and Tsinghua universities, are qualified to conduct independent recruitment.
Different universities may have their own requirements. Communication University of China, for example, takes into account scores in some international English tests, such as the International English Language Testing System and the Test of English as a Foreign Language.
zhaoxinying@chinadaily.com.cn