Employment rate for Chinese college graduates stable: Survey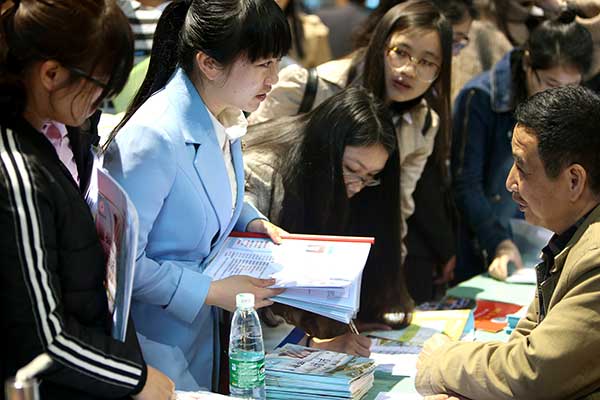 Graduates from normal universities in Hunan province interact with their potential employers at a job fair in Hengyang in March. More than 4,000 graduates participated in the event.[Peng Bin/For China Daily]
BEIJING -- The employment rate for Chinese college graduates remains stable, with more graduates employed by private enterprises, a recent survey shows.
The employment rate of college graduates in 2015 was 91.7 percent, basically flat compared with 92.1 percent in 2014 and 91.4 percent in 2013, according to a survey by education research company MyCOS Institute released Sunday.
Breaking the numbers down, 92.2 percent of university graduates and 91.2 percent of graduates from junior colleges and higher vocational schools found jobs, according to the survey.
Some 250,000 college graduates in 30 provincial-level regions on the mainland were interviewed six months after they graduated last year.
Of that number, 59 percent were employed by private firms, up 5 percentage points than two years before, while the employment rates in state-owned enterprises, foreign-owned companies and joint ventures dropped, according to the survey.
More graduates are starting their own businesses, with 3 percent registering as self-employed in 2015. Most graduates secured start-up funding from their parents, relatives, friends or personal savings, said the survey.
Industries including education, medicare, media, information and communications hired more graduates while construction and hardware manufacturing sectors employed less.
The survey also covered some 41,000 employees who graduated from college in 2012. Their average monthly income was 5,696 yuan (about 868 U.S. dollars), 87 percent more than what they earned three years ago, according to the MyCOS survey.