Partnership looks to lead society in the future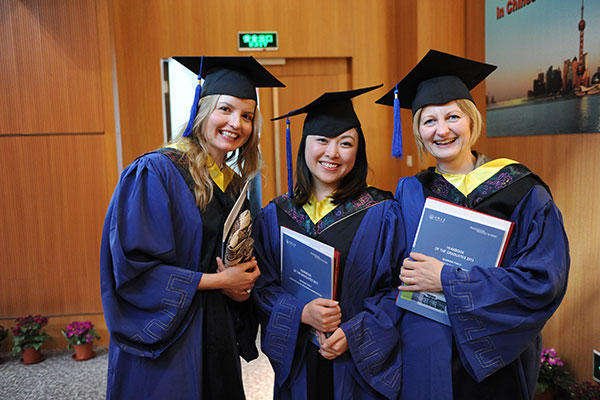 Students celebrate their graduation from the Mannheim-Tongji EMBA program in March 2013. [Photo provided to China Daily]
The School of Economics and Management at Tongji University has vowed to build itself into a world-leading business school with global vision and lofty aspiration in business world.
Tongji University in Shanghai was founded by the German government along with German physicians including Erich Paulun in 1907. Its business school's research strengths lie in engineering management, industry management and urban development management.
"Our mission is to create management knowledge and develop leading professionals for China and the world who are capable of solving practical problems while addressing the challenges of business and society with a global perspective, responsibility and in a sustainable way," said Huo Jiazhen, dean of Tongji SEM.
"Over the past years, Tongji SEM has long been pursuing international development strategy and insisting practical teaching and research so as to build its global competitiveness," Huo said.
"With such strategy and development direction, Tongji SEM has received a lot of achievements and also sees a rising significance among the world's business education," he said.
Tongji SEM has established collaborative partnerships with more than 70 business schools and universities from 15 countries and regions.
It has collaborated in undergraduate and graduate programs with ESCP Europe Business School and ESSEC Business School, an MBA double-degree program with Manchester Business School, an EMBA double-degree program with the University of Mannheim, MBA and finance programs with Case Western Reserve University, and an SIMBA program with ENPC School of International Management.
Tongji SEM is also a full member of global education institutions including AACSB, EFMD, AMBA and PRME, and has achieved accreditations with EQUIS, AMBA and CAMEA.
In 2014, Tongji SEM ranked seventh among the top business schools of Chinese mainland in Eduniversal Worldwide Business School Ranking.
In 2015, its masters program in management was globally ranked 52nd by The Financial Times, rising 13 positions from the previous year.
Its SIMBA program climbed to 57th from 68th position in the latest 2015 Global EMBA ranking released by The Financial Times.
The dean said Tongji SEM will make efforts to promote the school's international growth and disciplinary development so as to better equip students with rich business knowledge and strong global competitiveness for business challenges.