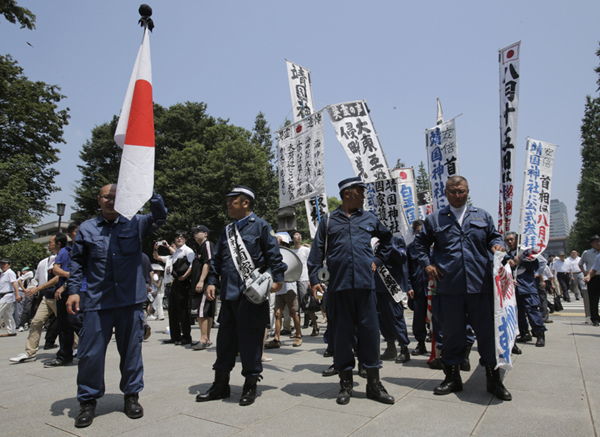 Members of a right wing group arrive at the Yasukuni Shrine to pay respects to Japan's war dead in Tokyo, Aug 15, 2013. [Photo/IC]
Premier Li Keqiang has said "a test and an opportunity for the China-Japan relationship" will take place this year, and Japan's leaders are urged to "face history squarely" amid the 70th anniversary of the victory in the world's anti-fascist war.
Li made the remarks at a press conference for domestic and foreign reporters at the close of the third session of the 12th National People's Congress, the country's top legislature. A Japanese reporter had asked the premier about his views on the possible impact of China's plans to mark the anniversary, including a military parade.
"At such a critical moment this year, there is both a test and an opportunity for the China-Japan relationship," Li said.
"If leaders of Japan can face history squarely and maintain consistency in how they view that part of history, there will be a new opportunity for improvement and further growth of China-Japan relations," he said.
"It will also create favorable conditions for the growth of our business relationship between the two countries."
This year also marks the 70th anniversary of the victory of the War of Resistance Against Japanese Aggression.
Many countries also have plans to hold various commemoration activities, Li said.
"The purpose of these activities is to firmly bear in mind the hard lessons gained from the past and ensure that that kind of history will never repeat itself.
"The purpose is to uphold the outcomes of World War II and the postwar international order and international laws to maintain enduring peace for mankind," Li said.
The premier said "it is true that the current China-Japan relationship is in difficulty" and he stressed that "the crux of the issue is how that war and that part of history are viewed".
"One needs to hold a right outlook on history and that means one needs to take history as a mirror and at the same time look to the future. For leaders of a country, they - while inheriting the historical achievements made by their forefathers - also need to shoulder the historical responsibilities for crimes committed in the past," Li said.
The war of aggression imposed on the Chinese people by the Japanese militarists brought untold suffering and average Japanese were also victims of that war, he said.