Future rosy for ties with Malaysia
By Li Jiabao ( China Daily )
Updated: 2013-10-04
China and Malaysia can see bright prospects in bilateral trade and two-way investment, as expanding consumption will increase demand for goods and services from each other, according to experts.
"I'm confident in the future of economic ties between China and Malaysia," said Zhang Jianping, a researcher for the National Development and Reform Commission's Institute for International Economic Research.
"Malaysia is a much-developed economy in the Association of Southeast Asian Nations and has a very robust demand for Chinese products owing to its high per capita income."
Malaysia has greatly contributed to the fast growth in trade between China and the ASEAN, which surged from $54.77 billion in 2002 to $400.1 billion last year, Zhang said.
In the first eight months of this year, China-Malaysia trade rose 14 percent from a year earlier to $68.35 billion, accounting for the largest proportion of China-ASEAN trade, according to the General Administration of Customs.
Chinese Ambassador to Malaysia Chai Xi said recently that China-Malaysia trade volume is likely to reach $100 billion this year in view of the growth momentum.
Dato'Sri Mustapa Bin Mohamed, Malaysian minister of international trade and industry, said in August his country had attached great importance to economic ties with China, its largest trade partner and an important investment destination.
He also invited more Chinese investment to his country.
Total Malaysian investment in China now exceeds $7 billion, while Chinese accumulated investment in Malaysia is less than $700 million, Chai said.
"China's services sector is less open compared with Malaysia, a major obstacle for Malaysian investment in China," researcher Zhang added. "But it's good news that the Chinese government is advancing reforms, which can be seen in the free trade zone piloted in Shanghai."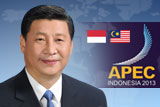 China should increase investment in ASEAN
China should ratchet up cooperation with Association of Southeast Asian Nations countries to expand Beijing's regional influence while countering Washington's Asia-Pacific pivot strategy.