Strategic cooperation can boost bilateral relations
By LUO YONGKUN ( China Daily )
Updated: 2013-10-04
Malaysia is an old friend of China in Southeast Asia. Bilateral relations are longstanding and progressing steadily.
With the continuous development of bilateral relations, China-Malaysia strategic cooperation is expected to boost the overall China-ASEAN strategic partnership.
China and Malaysia established diplomatic relations in 1974, which have stood the tests of the Cold War, the Asian financial crisis and the so-called China threat theory, and witnessed sound development in the political, economic and cultural fields.
Thanks to the good relationship between the two governments and extensive people-to-people contacts and exchanges, bilateral relations are now at the best period of development in history.
Malaysia has been China's top trading partner for the ASEAN for five consecutive years since 2008, with bilateral trade hitting a record high of nearly $95 billion in 2012. As of the end of last year, mutual actual investment reached $7 billion, covering more than 5,000 programs. Malaysia will become the third Asian country after Japan and South Korea, whose bilateral trade with China exceeds $100 billion.
Meanwhile, China has been working actively with Malaysia to build a model for cooperation in Southeast Asia, with two joint China-Malaysia industrial parks being built in Qinzhou, Guangxi Zhuang autonomous region, and Kuantan, the largest city on Malaysia's eastern coast.
Politically, the leaders of both sides attach importance to the promotion of bilateral relations from a strategic perspective. In June 2009, less than 60 days after taking office, Malaysian Prime Minister Najib Tun Razak visited China and the two governments signed a joint action plan on strategic cooperation to strengthen strategic coordination on regional issues.
China's new leadership attaches great importance to the further development of ties with Malaysia. Choosing Malaysia as one of the destinations of President Xi Jinping's first foreign trip to Southeast Asia shows that strategic mutual trust and strategic consensus between China and Malaysia have reached a considerable level.
In cultural exchanges, the two countries signed agreements on mutual recognition of higher education experience and academic degrees in 2011, which will further promote cooperation between their higher educational institutions as well as people-to-people exchanges between Chinese and Malaysian young people. More than 2,500 Malaysian students study in China and there are more than 10,000 Chinese students in Malaysia. Strengthened youth exchanges will greatly promote bilateral mutual understanding and trust.
Strategic cooperation between China and Malaysia can help boost China's overall relationship with the ASEAN. China-Malaysia relations are solid and reliable. In the future, bilateral relations will become even more comprehensive stable, and pragmatic, and further promote China-ASEAN cooperation.
China-Malaysia economic cooperation can push forward China-ASEAN economic cooperation.
In the context of the global economic downturn, China and the ASEAN can only rely on themselves to achieve steady economic growth and sustainable development. Building an upgraded China-ASEAN free trade area is the mainstay to realize steady economic development.
The around $100 billion trade volume between China and Malaysia accounts for a quarter of total China-ASEAN trade volume. In the future, the steady growth of China-Malaysia bilateral trade and mutual investment will serve as an important driving force for an upgraded China-ASEAN FTA. The model of building joint China-Malaysia industrial parks in the two nations will inject new vitality into China's economic cooperation with other ASEAN states.
The broad strategic consensus between China and Malaysia will contribute to the construction of China-ASEAN connectivity. Malaysia and China share a high degree of strategic consensus and both countries attach importance to safeguarding the overall development of China-ASEAN relations, sticking to giving priority to regional economic development and strategic cooperation and keeping calm in dealing with territorial disputes over some islands and reefs in the South China Sea.
China and Malaysia have shelved their disputes over maritime sovereignty, given full play to the complementary advantages of the Qinzhou and Kuantan industrial parks, and are strengthening cooperation in harbors, industry, logistics and shipping to promote regional connectivity. Geographically, China-Malaysia connectivity will facilitate the construction of China-ASEAN maritime connectivity and help establish closer relations between China and ASEAN countries, forming the bedrock of the establishment of the China-ASEAN maritime partnership.
The author is a researcher with China Institutes of Contemporary International Relations.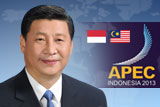 China should increase investment in ASEAN
China should ratchet up cooperation with Association of Southeast Asian Nations countries to expand Beijing's regional influence while countering Washington's Asia-Pacific pivot strategy.