Chinese president stresses peaceful solution to South China Sea disputes
By ( Xinhua )
Updated: 2013-10-03
JAKARTA - President Xi Jinping said Thursday that China and Southeast Asian countries should stick to peaceful means to resolve their disputes in the South China Sea.
China and some Southeast Asian countries have territorial and maritime differences and disputes, Xi said in a speech to Indonesian lawmakers.
"The two sides should always stick to peaceful means and properly handle the issues through equal dialogue and friendly negotiation in order to safeguard bilateral relations and regional stability," he said.
The Chinese president is on a two-day state visit to Indonesia, the first leg of his maiden trip to Southeast Asia since he assumed presidency in March.
Live report on President Xi's speech to Indonesia's parliament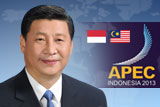 Xi makes a historic trip to the land where countless generations of Chinese have emigrated to, settled down, and melded into.