Trending news across China on Oct 12
High scoring student is holding out for Beida, Henan wants to set standards for its famous noodles, and if you live in Beijing, Shanghai or Zhejiang, chances are, you're annoyed. It's all trending across China.
Hotel check-in alert
WooYun.org, a domestic security monitoring platform, reported that check-in information at some hotels is being leaked. The hotels include Home Inn, the largest budget hotel chain in China, and Hanting Inns&Hotels, and loopholes in management systems is being blamed. ( cnwest.com)
Campus dance becomes chaste
The Ministry of Education has amended its promotion of campus group dancing to remove hand touching between boys and girls. The move was made to avoid embarrassment between the sexes and to address parents' concerns about puppy love among primary and middle school students. (Beijing Youth Daily)
Most annoyed cities
People in Beijing, Shanghai and Zhejiang province are the most annoyed, according to a national ranking issued by Baidu Zhidao, a platform for Internet users to pose questions. It also showed that emotional issues have become the most bothersome problem. (Yangtze Evening Post)
Music on carrier Liaoning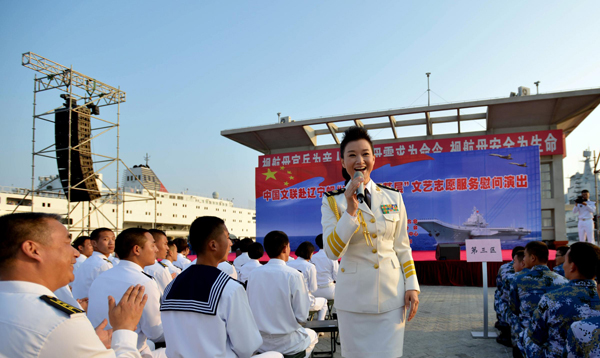 The first performance was staged on China's first aircraft carrier Liaoning on Oct 9, and it included folk singer Song Zuying, Yu Junjian, Dai Yuqiang and crosstalk comedian Jiang Kun. (Xinhua News Agency)
Traffic hazard
A driver rear-ended another car on the Nanjing-Hangzhou highway in East China on Thursday while posting photos on WeChat. The local traffic authority said 20 percent of accidents they see are caused by drivers using their cell phones. Beijing's traffic authority also complained that cell phone WeChatting and micro-blogging were blamed for most of the traffic jams.
Holding out for Beida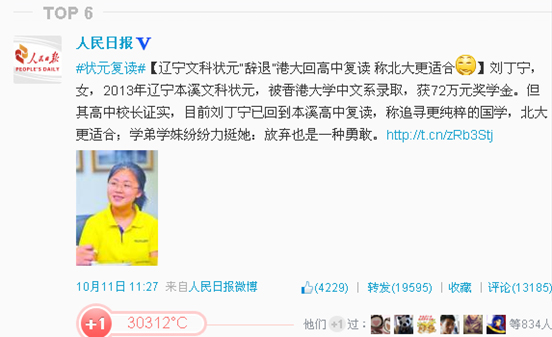 Liu Dingning, who had the highest score in the college entrance exam this year in Northeast China's Liaoning province, declined a generous scholarship and offer of admissions from Hong Kong University and is now sitting back in her high school classroom, with the goal of enrolling at Peking University in 2014. Her decision to turn down the scholarship of 720,000 yuan ($117,648) came as a surprise to all. Liu said she is looking forward to a "more pure Chinese study" at the renowned Peking University on the Chinese mainland. Some people said it would not be worth the effort, but still many support Liu's decision, saying what she did was brave. (Liaoshen Evening News)
Noodle controversy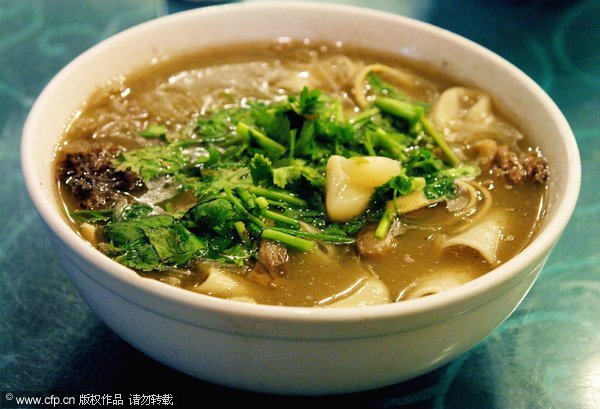 Henan is set to set standards for braised noodles, an iconic food in the province, sparking intense discussions online and dividing Internet users. Some hailed the decision as a way to preserve cuisine culture, while others said standardized processing would hamper diversity. The provincial department of commerce said restaurants will still be free to stick to their own recipes. (www.ifeng.com)
Frugal Chow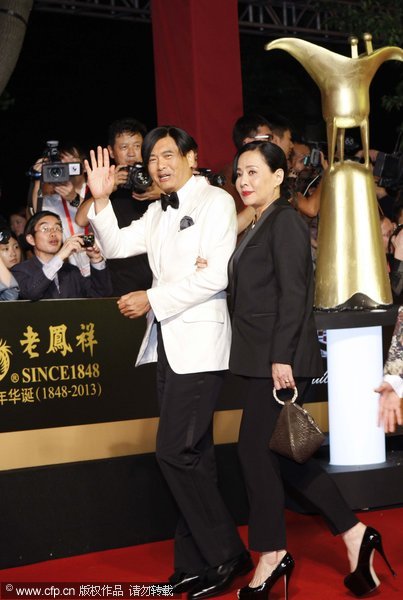 As one of the highest grossing actors, Chow Yun-fat is entitled to a flashy lifestyle. But unlike his counterparts, the actor from Hong Kong lives a simple life. He hands most of his paychecks to his wife, Jasmine Tan. The investment-savvy Tan was the mastermind behind their eight properties worth $129 million. (www.chinanews.com)

Editor's picks

Copyright 1995 - . All rights reserved. The content (including but not limited to text, photo, multimedia information, etc) published in this site belongs to China Daily Information Co (CDIC). Without written authorization from CDIC, such content shall not be republished or used in any form. Note: Browsers with 1024*768 or higher resolution are suggested for this site.
Registration Number: 130349