Typhoon kills 25 in Guangdong
By ZHENG CAIXIONG in Shanwei, Guangdong, and XU JINGXI in Guangzhou | China Daily | Updated: 2013-09-24 02:53




Villagers complain authorities did not warn them of approaching Usagi
Typhoon Usagi killed at least 25 people after making landfall in Guangdong province on Sunday evening, with winds reaching speeds of up to 45 meters a second.
The typhoon hit the province at 7:40 pm on Sunday, according to provincial authorities, which confirmed the death toll on Monday. In the coastal city of Shanwei, the hardest-hit area, 13 died and dozens more were injured.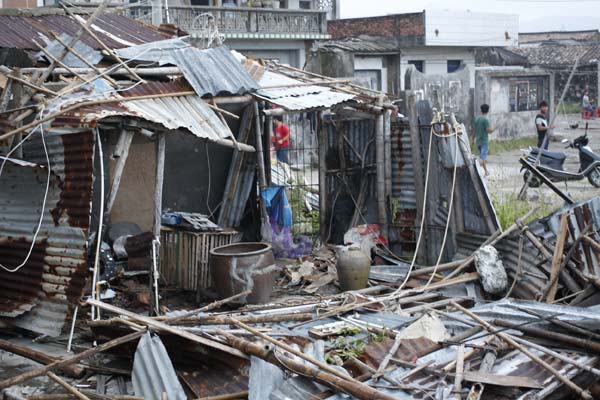 The wreckage of a house in Lufeng, Guangdong province, after Typhoon Usagi slammed into southern China on Monday. The year's most powerful typhoon forced hundreds of flight cancellations, shut down shipping and train lines, and killed at least 25 people.[Zou Zhongpin / China Daily]
Chen Zhanzhen, a crab farmer in Pubian, a village in Shanwei, said he took refuge on higher ground in a nearby primary school.
"Most of the old houses collapsed," said the 56-year-old, adding that the roof of his home was blown away in the typhoon.
"My crab farm was flooded, too. My losses could be more than 100,000 yuan ($16,340)," he said.
Chen said he heard that Pubian's electricity supply would be resumed within 15 days at the earliest.
"The town's government hasn't sent anyone to our village to comfort or help us. When the typhoon came, we saved ourselves by running to the primary school or relatives' and friends' houses on higher ground," Chen said.
Huang Guangwen, 50, who runs a grocery store in neighboring Zhouzhu, said the storm was the strongest he could remember in 40 years.
"My storeroom was flooded with losses possibly running to tens of thousands of yuan," he said. "The electricity and water supplies were cut off. So were phone and Internet services."
Both villagers complained that authorities had not gi
ven them any warning about the impending storm.
"The government hasn't given us any news," Huang said. "I don't know whether it has weakened or even left the province."
In Shanwei on Monday, fallen trees lined roadsides and electricity cables were dangling. An engineer working to repair the electricity lines in Pubian said he had rushed overnight from Jiangmen, which is located about four hours from the village.
"I don't know when the electricity will resume," he said.
By 10 am on Monday, 1.81 million households in Guangdong were still without electricity. More than 5 million people and 50,800 hectares of crops were impacted by the typhoon, according to Shanwei authorities.
Altogether, 8,490 houses were destroyed in the strong winds and heavy rain, with direct economic losses estimated by Guangdong provincial government at approximately 7.17 billion yuan.
Power outages spread to more than 65 percent of the city, according to the Shanwei headquarters of flood control and drought relief.
The city's hygiene and disease control department sent six medical teams to typhoon-hit areas to properly dispose of dead animal bodies and sterilize facilities to prevent epidemics.
Authorities also said seawater encroachment caused by the confluence of Usagi and tidal forces led to flooding in many districts and counties of Shantou. The maximum depth of flooding in the city's old urban area was about a meter.
Rail and air services have mostly resumed, according to local authorities and transport operators. Forty flights scheduled to leave from or arrive at Guangzhou Baiyun International Airport had been canceled by 11 am on Monday. The number of suspended train services will be reduced from 40 to 10 on Tuesday, Guangzhou Railway Group Corp said.
Usagi, which means rabbit in Japanese, is the 19th typhoon to hit China this year.
Contact the writer at zhengcaixiong@chinadaily.com.cn

Editor's picks

Copyright 1995 - . All rights reserved. The content (including but not limited to text, photo, multimedia information, etc) published in this site belongs to China Daily Information Co (CDIC). Without written authorization from CDIC, such content shall not be republished or used in any form. Note: Browsers with 1024*768 or higher resolution are suggested for this site.
Registration Number: 130349