China launches new weather satellite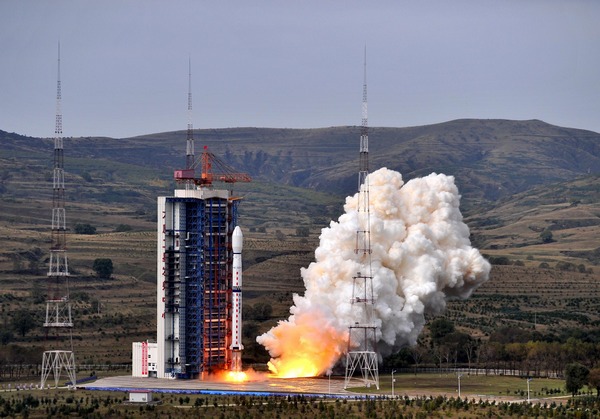 Photo taken on Sept 23, 2013 shows a Long March-4C carrier rocket carrying a China's Fengyun-3 satellite taking off from the Taiyuan Satellite Launch Center, North China's Shanxi province. The new satellite, the third of China's Fengyun-3 (FY-3) series, will form a network with the first two FY-3 satellites to improve China's meteorological observation and medium-range weather forecast capabilities. [Photo/Xinhua]
TAIYUAN - China successfully launched a meteorological satellite into orbit at 11:07 am Monday, Taiyuan Satellite Launch Center said.
The third Fengyun-III satellite, carried by a Long March-4C carrier rocket, will join the previous two which are in orbit to boost China's weather monitoring capabilities.
The three Fengyun-III weather satellites, the country's second generation polar orbiting meteorological satellites, are useful in monitoring natural disasters and the eco-environment. They also provide meteorological information for global climate change studies as well as aviation and navigation.
The network of satellites will also shorten the updating hours of medium-range weather forecasting from 12 to six.
The first and second Fengyun-III were launched in May 2008 and November 2010 respectively.
This marks the 181st launch carried by a Long March rocket, according to the center.

Editor's picks

Copyright 1995 - . All rights reserved. The content (including but not limited to text, photo, multimedia information, etc) published in this site belongs to China Daily Information Co (CDIC). Without written authorization from CDIC, such content shall not be republished or used in any form. Note: Browsers with 1024*768 or higher resolution are suggested for this site.
Registration Number: 130349