Trending News across China, Sept 23
The hunt is on for a missing raccoon, and a Porsche owner held a funeral for his car which was destroyed in a crash after it stalled on a highway – it's all trending across China.
Li Tianyi verdict
Li Tianyi, the 17-year-old teenage son of two well-known military singers charged with gang-rape, will learn his fate on Sept 26 when the judgment is announced in Beijing Haidian District People's Court.
Li, the son of Li Shuangjiang and Meng Ge, both prominent PLA singers, is charged with four others in the gang-rape of a woman in a hotel after a night of drinking in the district in February.
Fraud transferred
A doctoral student in Chongqing successfully got 300 yuan from a swindler through bank transfer when he discovered the swindler pretended to be his friend and borrowed money, Chongqing Morning Post reported.
The student's move did not constitute a crime of fraud due to limited amount of money, a local lawyer was quoted as saying. .
Raccoon hunt
A lovely raccoon from a zoo in Yunnan province is missing and suspected to have been taken away by tourists during the the Mid-autumn Festival, Chinanews.com reported.
The zoo has called the police for help.
Porsche funeral
A Porsche owner in Changsha, Hunan province held a funeral for his car, which was destroyed in a crash after it suddenly stalled while he was driving on a super highway in April, voc.com.cn reported.
The funeral was held in front of a local automobile 4S shop since it has not responsed to the issues of the car, the owner said.
Graffiti battles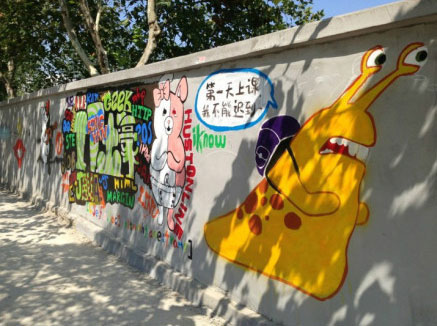 Images of graffiti on a wall at the Huazhong University of Science and Technology in Hubei province have gone viral on the Internet.
Previous attempts of graffiti on the same wall were destroyed by the school's security office, kankannews.com reported.
Voyage of life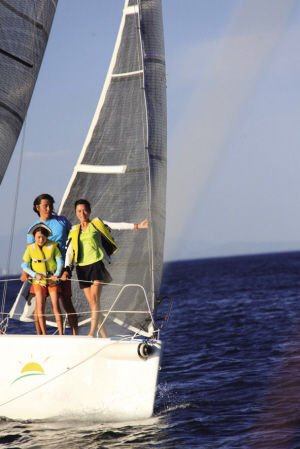 A family went on a 7,000 kilometer sea voyage to six countries in eight months since last October, aiming to search for freedom on a used sailboat which came at a huge cost. Zhai Feng and his wife sold their house and car, quit their jobs and then bought the boat for about $55,000. Zhai was tired of the repetitive, monotonous life. They have lived a calm and simple life on the boat for the eight months' voyage, even though they spend only one-fifth of the time at sea and facing risks like shipwreck, thunder and lightning. Zhai said: "It's only the beginning, sailing like a long ladder to the life that I wanted. I want to see the world, what's this era looks like. Have a choice in life, everything can change." Zhai's family will start their sea journey again this November, hzdaily.hangzhou.com.cn reported.
Mercy flight
A jetliner that was about to take off from Hangzhou returned to pick up a passenger who was going home after her daughter died, Qianjiang Evening News reported on Sunday. Chen Jing, who was on a business trip, got a phone call on Sept 15 that her daughter had died in a traffic accident. The jetliner she planned to take had already taxied to the runway, about 5 km from the terminal. Airport staff then called the flight back.

Editor's picks

Copyright 1995 - . All rights reserved. The content (including but not limited to text, photo, multimedia information, etc) published in this site belongs to China Daily Information Co (CDIC). Without written authorization from CDIC, such content shall not be republished or used in any form. Note: Browsers with 1024*768 or higher resolution are suggested for this site.
Registration Number: 130349